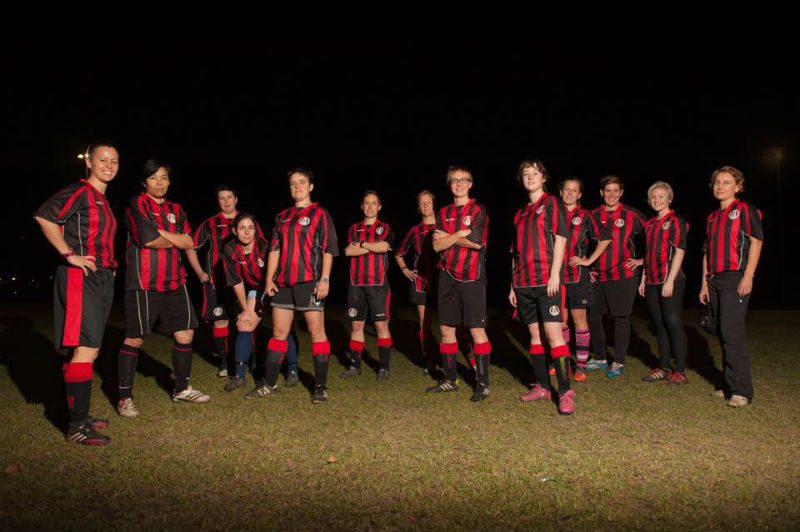 This festival of fun and football is this Saturday!
On Saturday 8 October, a festival of fun and football awaits spectators at Lambert Park, Leichhardt with the 5th annual Pride Football Australia tournament. All are welcome to come along with activities from face painting and fairy floss to first-class football on the schedule.
Football players and supporters regardless of their gender or sexuality come together with Pride Football Australia. The theme this year is "heroes" and local football players will dress up and compete in a brand new small-sided tournament.
Following this will be the annual Julie Murray Cup which will feature the Flying Bats FC and the Melbourne Rovers SC women, and the Justin Fashanu Cup, where Sydney Rangers FC will try to keep the trophy in Sydney for another year against the Melbourne Rovers SC men.
Alicia Rich, President of Pride Football Australia explained, "After four successful Pride Football tournaments, we're excited to return to Sydney and put on a spectacle for our community to enjoy. Everyone should come along, bring their kids and friends, and enjoy the atmosphere and good football."
Gates will open at 11 AM and there will be stalls and entertainment throughout the day, including a BBQ with proceeds to Twenty10.
For more information about Pride Football Australia

click here
What:              Pride Football Australia
Where:            Lambert Park. Marion Street, Leichhardt NSW
When:             11.00am-7.00pm, Saturday October 8 2016
11.30 am: Heroes – small-sided competition rounds
2.00 pm: Heroes small-sided competition finale
3.00 pm: Julie Murray Cup (Flying Bats Women's Football Club v Melbourne Rovers Soccer Club women)
5.00 pm: Justin Fashanu Cup (Sydney Rangers Football Club v Melbourne Rovers Soccer Club men)