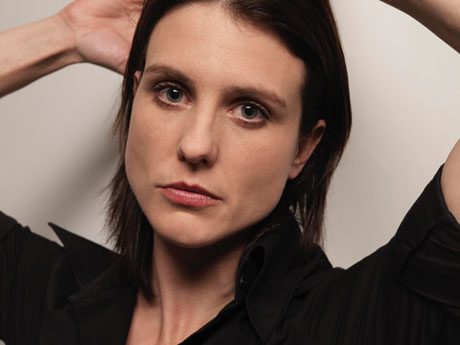 Lip Service fans get ready to see the gorgeous Heather Peace up close and personal when she appears at Women Say Something.
Following the success of six sold-out events, the Sydney Gay and Lesbian Mardi Gras event Women Say Something is expanding and reaching out to even more women in 2013. Plans announced today include tripling the capacity of its sold-out Sydney event by moving to the prestigious Paddington Town Hall for Mardi Gras 2013 and taking the show on the road for Melbourne's Midsumma Festival.
"With the event selling out in 3 minutes for the November edition, we realised that this event needed to be accessible to more women in our communities. Paddington Town Hall is a great venue and provides the opportunity to have tiered price points, allowing access to everyone." Steph Sands, Chair of the Mardi Gras Women's Committee and Executive Producer of the event said.
Also announced today are the first two panellists for the event, themed "Generations of Women".
"We are delighted that UK Actress/Singer Heather Peace will join us to speak and perform at the event. Heather plays the lead role of Detective Sergeant Sam Murray in the BBC hit lesbian drama Lip service. We know that many Australian women have fallen for Heather, and we expect there will be many hearts fluttering on the night." Steph said. "We look forward to hearing her speak about the women that have influenced her over her life"
Heather will be also performing at Fair Day and at concerts in major capital cities.
Joining Heather will be Australia's own Claudia Karvan. Claudia has been a long time supporter of our communities and holds a special place in women's hearts around the country for her strong portrayal of women in such hit TV shows as "The Secret Life of Us", "Love My Way", and most recently, "Puberty Blues".
Claudia champions many human rights issues and has been a patron of A Just Australia – a campaign for refugee programs – since September 2002. She is also an Ambassador for Wayside Chapel, on the judging panel for The Stella Prize (which awards $50k to female writers) and an Ambassador for the Natalie Miller fellowship.
"Claudia has been an influential part of many women's lives in Australia and has a strong social conscious. She is precisely the type of woman we want to hear more from and is a fantastic addition to this event."
Further panellists for Women Say Something: Generations of Women will be announced over the coming weeks.
It was only a matter of time before this very successful Sydney event took to the road and the first stop is Melbourne for Midsumma on January 19th. The theme for Melbourne's event is "Destroying the Joint" where panellists will be discussing the impact and swift rise in women speaking out publically in Australia today. Panellists confirmed for the Melbourne event include Gretel Killeen, Margie Cummins, Catherine Deveny and Tara Moss, with more to be announced soon.
Pete Urmson and Siri Kommedahl, Co-Chairs of the Sydney Gay and Lesbian Mardi Gras, are fully supportive of the voice this event gives to female-identified members of our community and has committed to ensuring the event continues to grow and develop.
"The success of Women Say Something speaks for itself – women from all walks of life have clearly embraced the opportunity to connect and engage in dialogue on issues that are important to them." Said Siri.
"The continued calibre of the panellists and speakers to date has been exceptional. SGLMG is proud to present Women Say Something like a way to provide a platform for women in our community and beyond, both during Sydney Mardi Gras and throughout the year. We are committed to, and excited to see it grow and develop even further in the future."