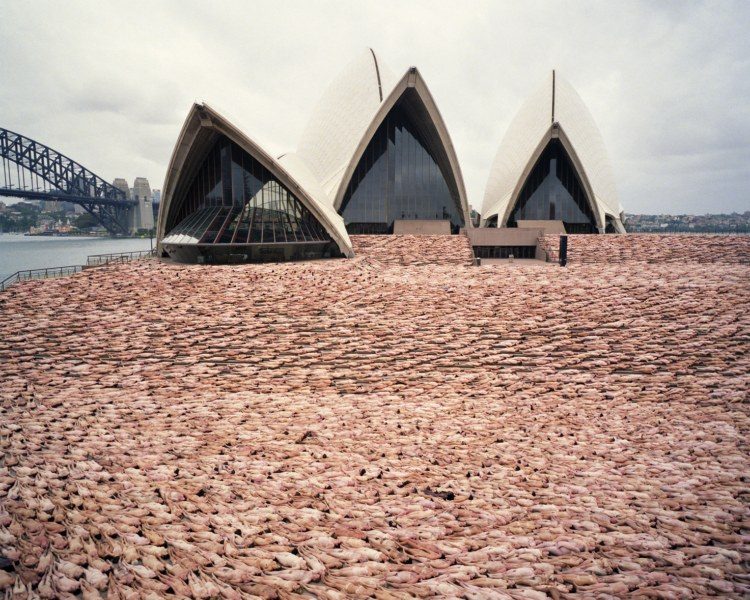 New Mardi Gras has revealed the image from the Spencer Tunick installation "The Base", that occurred as part of the Mardi Gras 2010 Festival in March this year.
Each person who participated nude in the artwork on the Opera House Steps will receive a limited edition print of the photograph, which is now available for viewing on the Mardi Gras website.
"The Base" was an art installation, presented by renowned artist Spencer Tunick and the Sydney Gay and Lesbian Mardi Gras. Over 5,000 people from all walks of life arrived just before dawn on Monday 1st March to participate. The stunning image was created in only a few hours, after all attendees stripped off and formed a base of naked skin across the Sydney Opera House steps.
All participants can collect their limited edition print of the image from the Playhouse Foyer, Sydney Opera House between 11am and 3pm on Sat 14th and Sun 15th August 2010. If they are unable to attend participants will have their print mailed to them in the coming weeks.
"I'm really excited that the participants will finally get to see the installation they took part in," said Spencer Tunick. "Thanks to those participants we were able to capture an amazing moment and artwork that to me represents the equality and diversity of the city of Sydney.
I hope the work and the art-action highlighted the city's acceptance and pride in its gay and lesbian community." Several other installations occurred throughout the day, with many participants filling the Concert Hall of the Opera House immediately after the Forecourt installation. Meanwhile smaller male-only and female-only installations took place in the Botanical Gardens, using the lush environment of the gardens as a backdrop.
A second installation took place on Tuesday 2nd March at Lady Bay Beach, for New Mardi Gras members only. The natural beauty of the secluded beach provided the perfect setting for the nude installation, which is also released for viewing on the website today.
"We're thrilled to reveal the premier image of "The Base"," said Michael Rolik, CEO. "Not only did the 5,000 participants enjoy a wonderful experience of taking part in a Spencer Tunick artwork, but the ideas of equality the image evokes are central to the reason we celebrate Mardi Gras."