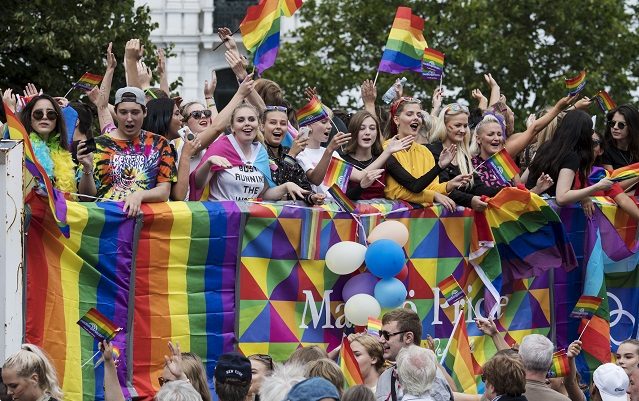 With WorldPride 2019 and the commemoration of the 50th anniversary of the Stonewall Riots coming to an end, activists and pride-goers can look forward to Copenhagen hosting the next WorldPride in 2021  
At the closing ceremony of WorldPride 2019 | Stonewall 50, a delegation from Copenhagen Pride took the stage to invite the massive crowd to the next WorldPride, which will take place in Copenhagen and Malmö on August 12-22, 2021.
WorldPride 2019 has been a magnificent celebration of the moment that sparked our movement 50 years ago. Now we hope you'll all join us in in two years' time to write the next chapter in our movement's history, Lars Henriksen, chair of Copenhagen Pride, said from the stage.
The inaugural WorldPride was held in Rome in 2000 in an effort from InterPride, the international association of pride organizers and licensor of WorldPride, to gather and celebrate the international LGBTQ+ community and promote LGBTQ+ issues internationally. The event has since then been hosted in cities such as London, Toronto and Madrid.
Now the baton has been passed on to Copenhagen and Malmö. Our two countries have a proud history of championing equality and standing up for our community, says Lars Henriksen. – WorldPride 2021 will continue this proud tradition of blazing the trail by shining a light on the barriers that LGBTQ+ people still face around the world.
WorldPride 2021 has garnered wide-spread political support. The former Prime Minister of Denmark signed a letter of support during Copenhagen Pride's bidding for the event, and the Lord Mayor of Copenhagen has voiced his support of WorldPride being hosted in the city at many occasions:
Back in 1989, I was a member of the national parliament and was a part of a push for the legalization of same-sex unions. 30 years after that historic decision, I am proud to be Lord Mayor in a city with a LGBTI+ policy. In Copenhagen, everyone should be able to live the life they want and be the person they are.
I am proud that our city will host WorldPride in 2021, and I am excited to welcome everyone that wants to join us in open-minded and free-spirited Copenhagen for the WorldPride, says Frank Jensen, Lord Mayor of Copenhagen.
The organizing team behind WorldPride 2021 promises an 11-days pride festival consisting of hundreds of events such as open-air concerts, art exhibitions, movie screenings, and parties – most of the events expected to be free of charge. The organizers also plan for an international conference and an open-for-all democracy festival to raise awareness on LGBTQ+ rights around the world. In addition to all this, the LGBTQ+ sporting event EuroGames is planned to coincide with WorldPride 2021.
We will seek to leverage WorldPride as a platform to raise awareness among the public, educate our own community, elevate LGBTQ+ issues around the world, and amplify the voices of activists, says Lars Henriksen. – And we will do so by putting inclusivity front and centre. We strive to make sure that everyone, whomever they love or however they identify, will feel included.
The organizers expect approx. 750,000 guests for WorldPride and EuroGames in Copenhagen and Malmö. It is the first time ever that the two events are celebrated in parallel and in two cities, and the combined event has been named Copenhagen 2021.