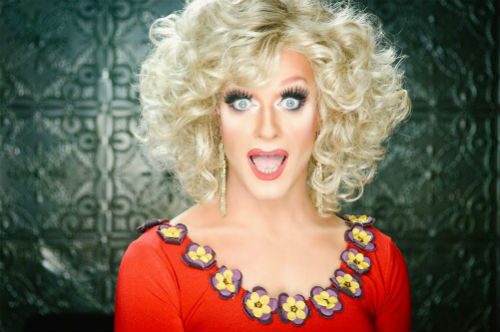 Accidental activist Panti Bliss comes to Sydney!
Ireland's High Queen, Performance Giant, and Accidental Activist Panti Bliss are headed to Sydney, Australia for Sydney Gay and Lesbian Mardi Gras to perform her smash hit comedy show, High Heels in Low Places. Panti will also walk the Parade on Mardi Gras night of nights, leading the brand new Irish Australian float on Saturday 7 March.
No stranger to the limelight, Panti landed herself in the middle of a media sh*tstorm christened 'Pantigate' that rocked Ireland in 2014.
Soon after, she became a Youtube sensation when a speech she made about homophobia went viral, was broadcast around the world, debated in parliament and remixed by the Pet Shop Boys – sparking a powerful conversation about equality.
Presented by THISISPOPBABY, High Heels in Low Places is Panti's riotous stand-up about life after 'Pantigate', which played to rave reviews and chock-a-block houses across Ireland. Critics called it "Hilarious" (Hotpress) and "a wickedly funny evening" (Irish Independent) with "impeccable one-liners" (The Evening Herald).
Charting brushes with infamy near misses with fame, and adventures in the seedy underbelly of Ireland, Panti invites you into her hyper-real, stiletto-shaped, Mardi Gras-tastic world, in a storytelling tour de force where she promises to 'say the unsayable.
"I can't wait to bring my old lady glamour to Sydney for Mardi Gras and make a fool of myself over some cheeky Aussie bloke I meet at a barbie. That has been my lifelong dream! But before I elope to the Northern Territories with Bruce, I'll be taking part in the MG parade and doing some shows in The Vanguard, and I'm equally as excited about that. And so is Bruce. He's very supportive of my career." says Panti.
Proudly supported by the Consulate General of Ireland, the Irish Australian float will be the first-ever entry into the Parade to have first, second and third-generation Irish Australians marching together. Helmed by Ireland's "National F**cking Treasure", Panti Bliss, and in a sea of green glitter, the float will represent modern Irish love and what it means to be an LGBTQI person Irish heritage in Australia.
"We want to celebrate the special relationship between Ireland and Australia with our Mardi Gras entry," says the organiser of the float, Lorna Markey Hennessy. "We have so much shared history, and so much in common now as two forward-looking nations who want to celebrate equality and love for all, all around the world. And we want it to be a great party, obviously!"