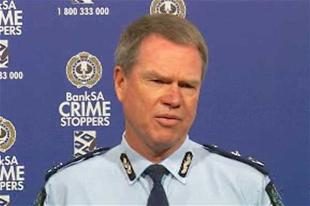 South Australia's police ordered not to march in uniform at Adelaide Pride.
While NSW and Victorian police officers are encouraged to march in uniform to support LGBTIQ pride at events such as Mardi Gras, the South Australian Police Commissioner Gary Burns has  refused to allow South Australian police to participate in Adelaide Pride in uniform..
Sydney and Melbourne police forces both participated in Pride in uniform for many years, similarly to police departments around the world.
Victoria's last three police commissioners personally marched in Pride, in uniform, for the last eleven years. NSW Police participated in Mardi Gras in uniform for many years. Across the world , uniformed police are a strong contingent of many of the world's largest Pride events including San Francisco and New York.
A spokesperson for South Australia Police restated their policy of denying police officers the opportunity to participate in Adelaide Pride in uniform..
Pride groups are lobbying  the Commissioner to change his mind on ruling
"Commissioner Burns has the opportunity in his first year as police commissioner, to catch up with the rest of the world by allowing SA police officers to march in uniform at Pride." said Andre Banks, Executive Director and co-founder of All Out. "Allowing law enforcement to show their support for Pride in uniform sends an important message to everyone watching. The police play an integral role in combatting violence and discrimination in our communities. Police participation at Pride, and many other community events, is an important display of the respect and solidarity that exists between the police force and members of the LGBT community."
Commissioner Gary Burns is in his first year as police commissioner. All Out.org's campaign demands that Commissioner Burns set a new standard for SA police by allowing police to march in uniform should they choose.