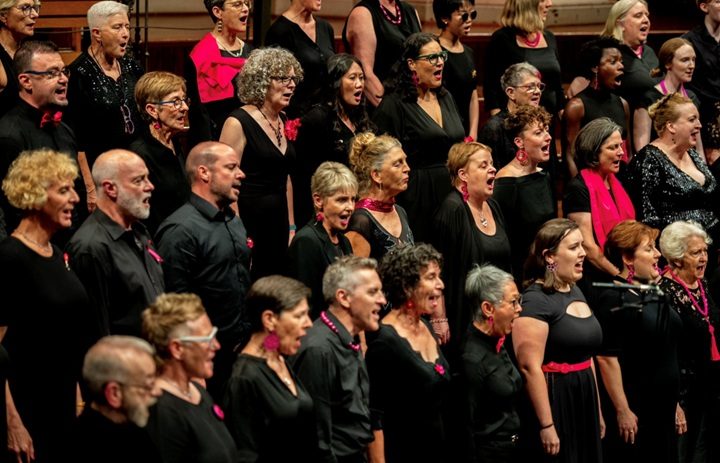 The Sydney Gay and Lesbian Choir proudly presents We Belong – a vibrant and colourful musical journey.
This one-night-only spectacular at NIDA's Parade Theatre on 5th August will bring to life 20 of the most beloved stage and film musicals that have captivated audiences with their timeless charm.
The Sydney Gay & Lesbian Choir is a non-auditioned choir that welcomes members regardless of their sexual identity or musical experience. The choir is open to all, united by a love of singing together and striving for performance excellence. A powerful symbol of diversity, inclusion and harmony, the choir has maintained a vital and visible presence in the history of Sydney's LGBTQIA+ community since 1991.
We Belong brings the full choir of eighty community members together for a heartfelt love letter to the music that has evoked laughter and tears over the years, both in theatre and on the silver screen.
Audiences are invited to celebrate the remarkable works of legendary composers such as Cole Porter (Anything Goes), Stephen Sondheim (West Side Story), Jule Styne (Bells Are Ringing), Ricard Rodger (The Sound of Music) as well as stage hits like Six and Mean Girls. The jampacked program will also showcase extraordinary music from Australia's Tim Minchin and the dynamic duo Pasek and Paul. Audiences can look forward to discovering fresh and unique arrangements that shed new light on the iconic songs they know and love.
Music Director Adam Majsay said: "I've long been a musical theatre fan, so to combine my love of the beauty of choral singing with the excitement of Broadway is a great joy. The rich harmonies, epic storytelling and bold textures of We Belong songs have been equally challenging and fulfilling as the choir and I have rehearsed this concert program. Each song brings a new world to life. We're thrilled to have our audience join us as we explore those musical worlds."
We Belong, is an enchanting evening that transcends generations and reignites the joy of musicals.
DATE: Saturday 5th August, 7 pm
VENUE: Parade Theatre, NIDA Theatres, 215 Anzac Parade, Kensington NSW 2033
BOOKINGS: Tickets will be on sale from 14th July on Tiketek or through the NIDA Box Office,
TICKETS: $55 (from $45 concession)