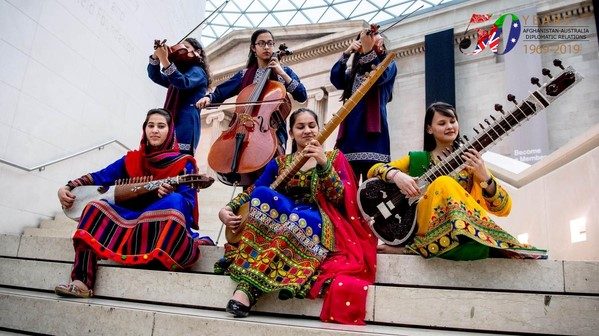 This is a story of passion, dedication and success. These courageous young women, who forced their way through repression and devoted their lives to making music, are genuinely inspirational.
In 2015, the all-female Zohra ensemble was formed. Initially a small chamber group, it soon grew into what is now a twenty-five-piece orchestra, comprised of both Western classical and traditional Afghan instruments.
Zohra Orchestra has received international recognition through numerous awards, including the Queen Soraya Award, the 2017 Freemuse Award, Success for Women of Afghanistan from the Institute for Peace, Media, and Good Governance, the Montluc Resistance Liberte Award 2018; as well as recognition in local and international media.
When the Music Stopped
The forced extinction of centuries of musical tradition. Once a hotbed of creativity, Afghanistan saw its 1,000-year-old musical heritage disappear overnight. Between the Soviet invasion in 1979 and the fall of the Taliban regime in 2001, draconian Taliban policies – which included an outright ban on music – led to the deaths and forced migration of many musicians and the decimation of the country's musical and cultural life. Though the ban was lifted after the Taliban were ousted, many of Afghan society still frowns upon the music.
Join this spectacular occasion as they celebrate the 100th Anniversary of Afghanistan's Reclamation of Independence and the 50th Anniversary of Afghanistan-Australia Diplomatic Relations. To facilitate cross-cultural collaboration and establish vital people-to-people links, Zohra Orchestra will be collaborating with twelve female students of the Sydney Conservatorium of Music to present a unique blend of culture, music and artistry from the two nations.