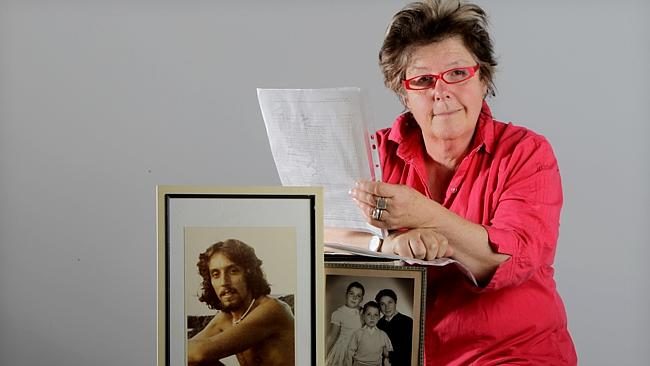 Margie Fischer, originally from Sydney, now lives in Adelaide. She's bringing her show, The Dead Ones, to the Seymour Centre for Mardi Gras from 18-22 February.
LOTL caught up with Margie as she gets ready to drive a truck with the set and the show's director, Catherine Fitzgerald, to Sydney.
How long have you been performing? 
I've worked in theatre all my life. I started in third class primary school when I wrote, performed, did publicity and box office with my friends raising money for the Red Cross, I went on to be a clown in alternative Circus in the 70's touring nationally.
I found myself living in Adelaide and co-founded Vitalstatistix Theatre Company and again wrote, produced and performed. My solo shows The Gay Divorcee, about divorce and separation from a lesbian perspective, was a hit, touring nationally. Another winner, The Fabulous Apron Fashion Parade toured to Sydney's Performance Space. The audience was amazed by what we did with aprons.
In 1997 I co-founded Feast, Adelaide's Queer Cultural Festival and produced shows including a live TV chat show, Margie Fischer Live at the Lion featuring fascinating guests on a comfy couch a la Ellen Degeneres, live cooking on stage, performing dogs, strippers and a playboy bunny. My show The Dating Game (similar to the hit 90s TV show Perfect Match) matched dozens of queer couples, after sifting through their compatibility from a survey I developed. I produced and hosted Wear It Out a series of queer community fashion parades with an astounding number of models and fashions.
So why The Dead Ones?
The show came about from my mother dying and being left to clear out the house where she had lived for 40 years in East Lindfield Sydney.  My father and grandparents had all died in the house and my brother was also dead so it was up to me to decide what to do with what was left.
I wrote as I went through the process of going through all that was left in the house. I sat in each room and wrote about the objects and the people. I wrote until there was no more left to write, I took photographs and looked at old ones. I knew I would do something with this raw material. The Dead Ones is what I made.
Is this a Mardi Gras show?
The Dead Ones is a great story, that resonates with audiences and the combination of storytelling and photographic images is original and powerful.  Audiences in Adelaide and Melbourne have told me so. So have the reviews.
The show is written and performed by a lesbian, it has a lesbian sensibility as that is who I am. I do speak about being a lesbian quite a bit in the show. Queer culture encompasses all aspects of queer lives.  Family, death, memory and what makes us who we are are rich sources of creativity. I invite LOTL readers to come and see what I am on about.