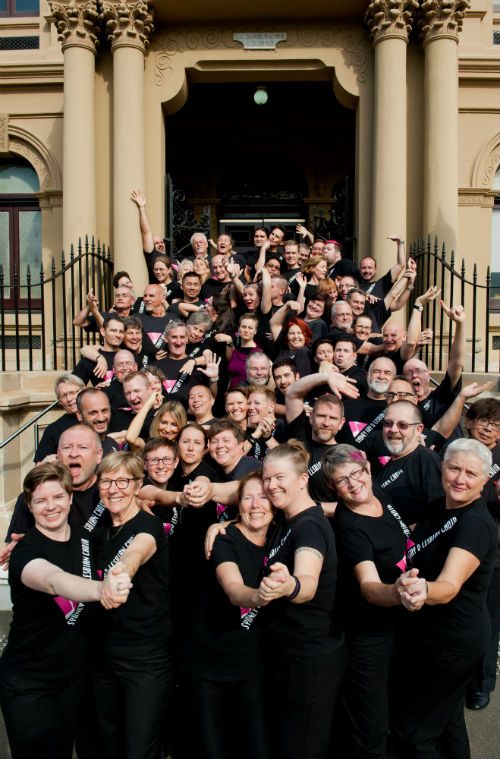 Sydney Gay And Lesbian Choir's song and dance are spectacular!
Sydney Gay & Lesbian Choir, Sydney's vibrant same-sex ballroom dance community and some of our city's brightest professional music theatre stars are presenting a dazzling song and dance spectacular. CHEEK TO CHEEK: A Ballroom Fantasia is a queer Cinderella tale with the message that "anyone can go to the ball".
The fully-staged jukebox musical will be performed at The Roundhouse, UNSW in Kensington with three performances only on June 20 and 21.
This glittering, funny, toe-tapping show is packed with dance music classics from across the decades, from Irving Berlin to Donna Summer.
CHEEK TO CHEEK is being directed by acclaimed music theatre performer and director Tyran Parke.
"When Sydney Gay & Lesbian Choir asked me to help them devise their own music which celebrated the world of same-sex ballroom dancing, I thought this is just going to be ridiculous fun," Tyran Parke said. "The show we are creating is jam-packed with great songs, exciting dancing, plenty of glitters as well as a funny and heartfelt storyline."
The concept for the show was partly inspired by a news story last year that the British Dance Council were seeking to define a dance partnership as having to consist of a man and a 'lady', effectively banning same-sex ballroom dance couples from mainstream contests.
In the show, Frederika (Johanna Allen) and Roger, or Ginger to his friends (Ben Palumbo), have been thrown together as ballroom dance partners since they were five years old. At the annual Tasman Strait Ballroom Championships, the Judge (Mark Taylor) ensures that all the couples abide by the ballroom regulations. However, a disastrous tango tangle makes them each realise that they just 'wanna dance with somebody who loves them'. Along comes a drag queen (Tom Sharah) on her way to the Rainbow Ball, and like all good fairy godmothers, she gives Fred and Ginger the confidence to break the rules of the ballroom and search for true love on the dance floor.
Well-known cabaret and music theatre performer Tom Sharah is looking forward to his role as the Fairy Godmother has been a superb drag finalist in the Priscilla-inspired television series, I Will Survive.
The versatile Johanna Allen has recently been touring Australia with her cabaret tribute to the music of Harold Arlen, The Songs That Got Away. She has performed in many New York engagements and Australian musicals including Dr Zhivago with Anthony Warlow and Sydney Theatre Company's The Threepenny Opera. In her role as Fred in CHEEK TO CHEEK, Johanna gets to perform a haunting version of Swedish pop star Robyn's Dancing On My Own with the women of Sydney Gay & Lesbian Choir.
Also joining the cast as a featured dancer is Mark Hodges, well known to television audiences from two series of Dancing With the Stars and for his lead dance roles in many musicals including Priscilla Queen of the Desert The Musical, Chicago and West Side Story.
For 24 years, Sydney Gay & Lesbian Choir has been breaking out into song and breaking down barriers with its uplifting and inclusive approach to choral music. As one of Australia's most popular community choirs with over 80 active singing members, it welcomes singers without audition and regardless of their sexuality, gender identity or music experience.
Written by: Andrew Dunn & Tyran Parke
Director: Tyran Parke
Music Director: Dr Sarah Penicka-Smith
Choreographer: Andrew Koblar
Lighting Designer: Christopher Page
Producer: Andrew Dunn
Band: Gareth Chan (piano), Paul Laszlo (bass), Loretta Palmeiro (clarinet, sax), Ann Palumbo (guitar), Cameron Reid (drums)
Sydney Gay & Lesbian Choir presents
'CHEEK TO CHEEK: A Ballroom Fantasia'
Dates and times: Saturday 20 June, 3pm & 8pm, Sunday 21 June, 2pm
Cost: Full $49, Concession $44
Location: The Roundhouse, UNSW, Anzac Parade, Kensington
Bookings: www.eventopia.co/unswroundhouse
For more information, visit www.sglc.org.