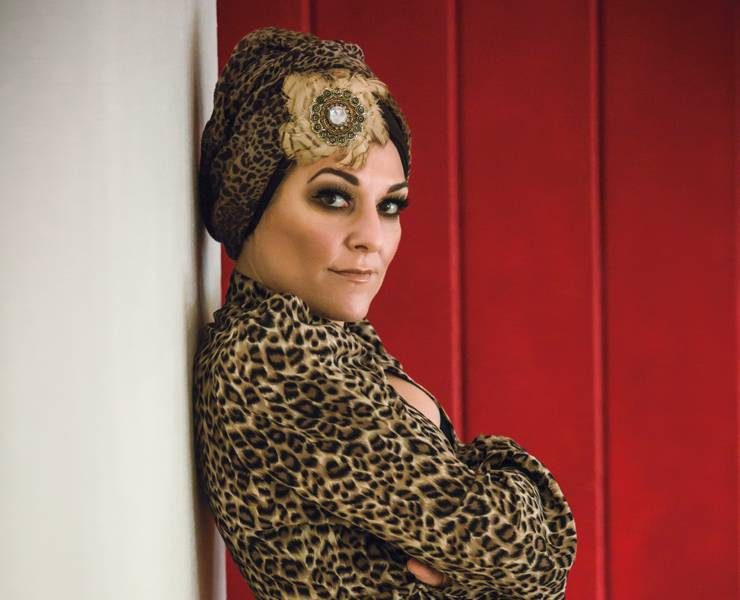 Amy Saunders is an androgynous, fabulous, ball-breaking, sequin-clad gameshow Queen.
Almost every night of the week she's onstage in Las Vegas as Miss Behave – a boisterous b*tch performing a self-described "balls-out, queer-inclusive show" that "deconstructs society and smacks you in the face with it." But when she's not on stage, she's busy being Amy – a socially awkward control freak with a f*ck-off attitude.
"I've always been a silly, weird, genderless clown," she said.

"But I am what the f*ck I am – if anyone has a problem with that, I'll take a f*cker out."
Record-breaking beginning
Saunders started her career in London as a sword-swallower, busking in bars and collecting tips in pint glasses. She's made it into the Guinness Book of World Records for the number of swords swallowed not once, not twice, but three times. But after almost a decade of touring with sideshows as a sword swallower, Saunders became burnt out and decided to dedicate her time developing something unique – The Miss Behave Gameshow.
When Saunders slips on her gold sequined pantsuit, chunky heels and matching turban, she becomes Miss Behave – transforming into, as she puts it, "the school teacher you fear and love, the improviser who can work at high speed… and the c*nt with a twinkle in her eye." Her stage does not feature red velvet curtains or fancy fittings – instead, it's made entirely from scraps, built with cardboard and sharpies.
"It's beautiful because of the attention of detail – but it's also ridiculously crap," she said.
The show has garnered attention worldwide, winning awards for "Most Outrageous Show," and "Best Kept Secret." But her rise to stardom has not come without controversy.
Fighting for recognition
"People have been confused – men, women, small kids, gays, straights – they've all been confused about what I am," Saunders explained. "I'm comfortable with that – by all means, be confused. But some people really struggle with what kind of a woman I am."
Saunders is often described as strident and shrew.
"Now that I'm in sparkles – I'm quite formidable," she said, adding these descriptions can sometimes be can be problematic. "If I had a dick, you're describing a strong man," she said. "But as I'm a woman… it's an issue."
Saunders said she's experienced discrimination by people who struggle to place her in a box – including her own staff.
"I get gas lit quite often – I'm quicker to recognize it now, but there's a lot of head-f*ckery. I'm still struggling to work out a default way through."
Her Vegas audience largely consists of middle Americans – often Trump-supporting men, Saunders said she was shocked at the amount of support she receives from the audience.
"Surviving and flourishing is a surprise," she said.
The ideologies or politics of her audience doesn't bother her though – their attitude does. "We are a balls-out, subverted queer show – if you have an issue with that, we'll have an issue with you," she said.
Saunders recalls a member of the audience speaking to her after the show – telling her that even though politically, the two were worlds apart they stood for the same message of love, inclusivity, and smashing the world to pieces. "That comment helps me on a daily basis," she said.
Amy's message
Saunders believes the most important thing people can do is be themselves – and if someone is not willing to let you be yourself, fight them.
"My elders did not get here without a bloody lip or a black eye. I am not standing on the bones they fought for easily," she said.

"It's really important we are vehemently and passionately who we are all the time."
Saunders encourages her audience to be themselves too – whether they're comfortable dancing on stage, texting during the show, or sitting meekly, she's fine with it so long as they are being true to themselves.
The Miss Behave Gameshow philosophy and philosophy of Amy Saunders are the same – fight for love, fight for passion, and fight for inclusivity without judgement?
"Let's not judge anyone, let's just figure it out," she said, explaining that – as with her Trump-supporting audience – the important thing is to have a conversation, be kind, and figure it all out together.
Her parting remarks?
"Wear yourself loud and proud…. and have keys in hand in case you need to punch a c*nt."