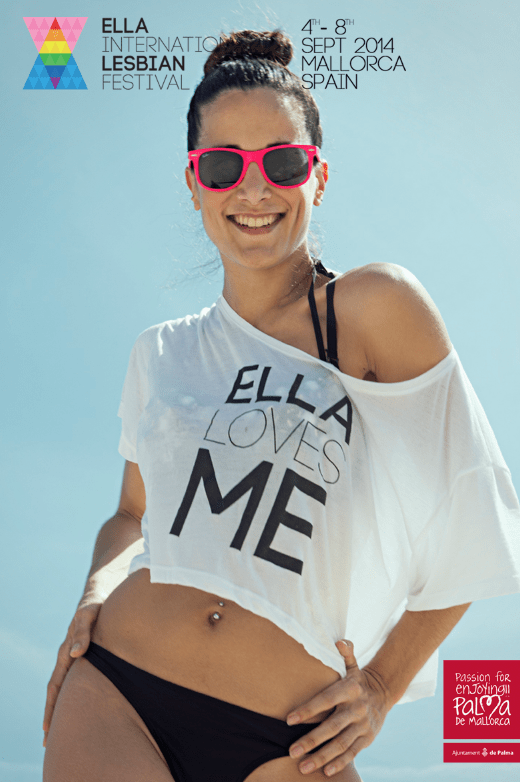 Through its second edition, the International Festival ELLA has confirmed its potential to become the reference Festival for lesbians of the whole world.
In comparison to last year, the more than duplicated attendance number demonstrate this fact. A total of 1800 women spread out over four days enjoyed a full program of sports, cultural activities and parties in Palma de Mallorca, the host city.
The big news of this edition, the ELLA Playa (beach) received an excellent reception within the public that enjoyed during the whole day nautical and sports activities, massages, cocktails and music.  The island of Mallorca as location of the Festival stands out from other more urban proposals dedicated to the collective in Europe. Everything points to ELLA becoming the synonym of vacation for lez girls.
This year's favourite activities have shown to be Palma on Bike to discover the city, the catamaran tour and the Spanish and Majorcan dinners of friday and saturday night. Participants could enjoy the ELLA bus for every needed transfer, a free service at their disposition to ease transportation between Palma and ELLA Playa, and between Palma and saturday and sunday's parties.
Attended the Opening party several authorities from the city and from the autonomical government.Mr Alvaro Gijón, Deputy Mayor for Tourism and Municipal Coordination and vice-president of the Tourism Foundation of Palma 365, has been in charge of welcoming to the city the participants. Were also present Mr. Pedro Homar and Mr. Javier Bonet, respectively manager and director of the FTPM365. The ceremony was also attended by Mrs. Sandra Sánchez, Minister of Family and Social Affairs.
During the night, the combination of exclusive venues, a tasteful musical selection, spectacular performances and a dedicated public that danced all night resulted in memorable parties. Particularly stood out Saturday's Circus Party that brought together 900 women that gave it all during the concerts of the Australian duet Stellar Addiction and the lesbian icon Heather Peace, to keep on dancing to the rhythm of Djane Blues, Swedish Dyke Vibes and Claudia Tejeda.
During Sunday's Pool Party in Aqualand, very successful as well in terms of attendance and good ambiance, took place the Miss Ella contest. The winner of the contest is a German girl of 32 years old, Diana Müller.
Yet, the greatest satisfaction of the organization is the good ambiance reached during the whole Festival. The attendance of 1800 women of more than 20 nationalities, of all ages and of very different styles and backgrounds have made the ELLA Festival a multicultural space, cosmopolitan  and colorful. Colorful and joyful.
Definitely, ELLA is here to stay.