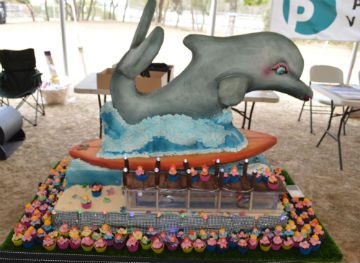 The Unreal Surf Comp, Coast Out Cake Comp, Pet Parade & the popular Coast Scout talent search are all on again during the festival
The Surf comp, proudly sponsored by Unreal Estate for the fourth year is on Saturday 26th October and has $500 cash & prizes in each division. The event is an all-inclusive Surf Comp and prides itself on people getting in, having fun and having a go.
In 2012 the festival introduced the inaugural Coast Out Cake Comp with the best tasting, best decorated & the hilarious "Coast Out themed Cake" sections which were a hit among cake enthusiasts from all around the Coffs Coast and beyond. Make your way to "Let's Bake & Decorate" or the Coast Out website for entry forms and registration.
If your pooch or pet feel inclined to come to the CoastOut Fair Day "Pet Parade" you are in for one Sassy Treat this year. There will be games, best tricks and look like sections this year including a "Celebrity Pet Look a Like" section. Turn up to the CoastOut Fair Day on Sunday 27th October at 10.30 am!
Have you or someone you know have the talent to share? The CoastScout talent search in 2013 includes a $1000 cash prize to assist the winner in their prize of performing on the Sydney Mardi Gras Main stage in February. Singers, Drag acts, comedians anyone with talent are encouraged to enter.