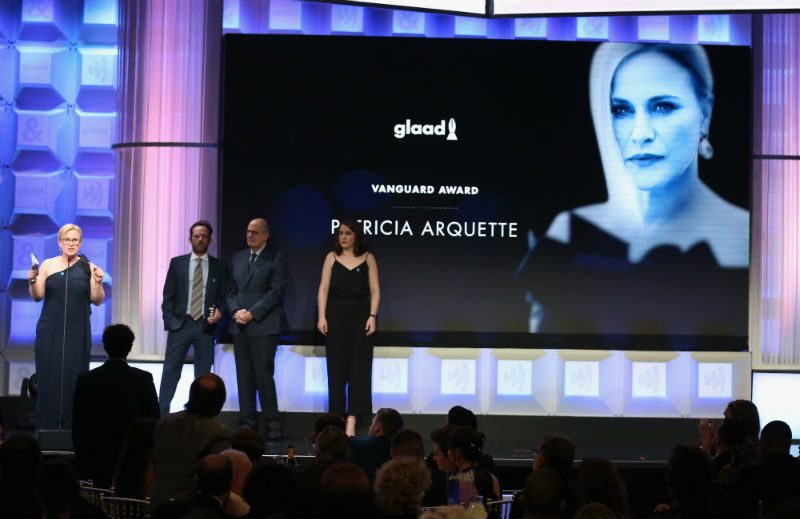 The Oscar-winning actor, activist and GLAAD Vanguard Award winner, Patricia Arquette, on the importance of supporting the LGBTQ community.
On April 1, GLAAD Honoree Patricia Arquette joined the makers of Moonlight, Transparent, and many others honored at the 28th Annual GLAAD Media Awards in Los Angeles at the Beverly Hilton. The world's largest LGBTQ awards show, which was broadcast exclusively on Logo on April 6, was sponsored by LGBTQ ally, Ketel One Vodka.
Arquette—the Oscar-winning sister of Rosanna and Alexis—is well-known to the LGBTQ community as an ally, a feminist, and as a champion of her late sister Alexis's legacy. In this exclusive interview with Curve, Arquette shares her feelings about the newest wave of feminist activism and the push for gender equality, why we need to support our trans brothers and sisters, and why corporate sponsors such as Ketel One are vital to raising the visibility for the LGBTQ community and its causes.
In your acceptance speech for your 2015 Best Supporting Actress Oscar for Boyhood, you used your time on stage to draw attention to the gender pay gap. You identify as a feminist but why do some actresses still have a hard time getting behind the women's movement?
I do identify as a feminist—and I think there's always been a debate about who identifies as a feminist or not. I think it's a statement on the way that we identify the women's struggle movement, or want to ignore the women's struggle movement. Because 'feminist' just really means you believe in equality. I think it's easy for people to say they don't like feminism when they don't really know exactly  what is going on. When you look at laws that directly and negatively impact women—when people look at the reality of what's going on legislatively with women, you have to say that it's an important struggle.
Meryl Streep approved of your speech that night, where you said, "To every woman who gave birth to every taxpayer and citizen of this nation: we have fought for everybody else's equal rights. It's our time to have wage equality once and for all and to fight for equal rights for women in America." But Trump has called Streep overrated, and many of his supporters consider Hollywood as elite. What do you say to that?
Let me just say something about any Trump supporter saying anyone in Hollywood is elite: Trump is part of the ultra-elite. He's part of the billionaire class and his whole cabinet is packed with millionaires. They are the ultra-elite. It's kind of a weird spin where he talks like he's Everyman, but he's not.
The majority of successful artists all came from working class or lower middle class backgrounds—there are successful performers who were even homeless at certain times in their life. So they don't usually come from the elite class. I don't think people have to be political—I don't feel a responsibility—but it does feel like we're living in a very precarious time and to ignore that opportunity to be political, or to ignore the danger that we're living in, I think, would be—I would feel negligent.
Straight allies are very important to our community. Can you tell us about your relationship with GLAAD?
I've been friends with [GLAAD President & CEO] Sarah Kate Ellis for several years and Ketel One has been sponsoring the GLAAD Media Awards for seven years so it was really nice to work together on this project. I think the landscape of media and the visibility in the LGBTQA community owes a lot to GLAAD and the pressure that they've kept on—I'm old enough to have grown up in a time when I remember Ellen coming out.
I remember that being a game changer and it's not that LGBTQ people didn't exist before; it's just that they'd been living in the shadows for so long. The more visibility, the more this is seen as a normal thing; that this is normal, that everyone belongs in this world; we're brothers and sisters; there's room for everybody. Especially in shows like Transparent, where you see full LGBTQ characters, you see people feeling everything, people aren't diminished for a joke—because before, even if they wouldn't say a character was gay, the character was the joke or the butt of the joke.
And I'm really happy that we're moving away from that time. GLAAD has done a great job of making the industry aware of how little visibility LGBTQ people have, year after year, and how much things have to change. How little inclusion there is. How few parts there are. How few stories there are. And they celebrate the stories that are being told.
You were named the 2017 Vanguard Award recipient in Los Angeles, and hosted a dinner with Ketel One to honor the legacy of your sister, Alexis Arquette, who passed last year. Tell us about Alexis' legacy.
My sister Rosanna is running the Alexis Arquette Family Foundation, which provides support to families of transgender individuals in need—we've all been so impacted by our loss of Alexis and how much we love Alexis and how unfair the world's been and our society's been towards out trans brothers and sisters. I think it's important for all of us to carry on Alexis's legacy, to find allies and support them.
The Nolet family come from the Netherlands and the Netherlands was one of the first nations to recognize same-sex relationships. Ketel One have always been really great allies to the LGBTQ community — it's really incredible to partner with them in Alexis' honor and celebrate her life. It's really moving when you find corporations who care abut human beings, especially human beings who are so diminished in the world.
How can we all be more supportive of trans people, those we are related to and those in the wider community?
I think it's important for people to know that transgender people are just like any other people. They have compete feelings, they love, they hate, they're cranky sometimes, they have a sense of humor, there are people they love, they have a history, and they belong. I think we knew Alexis was trans 17 years ago.
We had a lot of important and powerful discussions about being trans and what that felt like for her; about what did that mean in the world. I think one of the most important things that anyone can do is trust and support our transgender women, and understand there's nothing wrong with them.
The other thing that we could really do is: there needs to be more opportunities for our trans brothers and sisters. I've only ever once seen a transgender person at a counter in an establishment and it was owned by her family. I think we need more visibility, not just in entertainment. We need visibility everywhere.