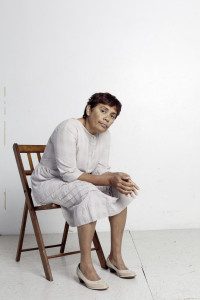 Belvoir St prepares for the Sydney premiere of Windmill Baby, a one woman show starring indigenous actress Roxanne McDonald.
Belvoir continues its tradition of presenting powerful indigenous stories with the long awaited Sydney premiere of Windmill Baby.

Windmill Baby is the story of Black Australians in the service of White Australia, but it is also a story of unexpected love and breathtaking heartbreak.
Roxanne McDonald (Yibiyung, Parramatta Girls) is Maymay, a resilient woman of wry humour and a gifted storyteller. She has come back to the pastoral station where she worked as a domestic half a century ago to free herself from old memories. As she hangs out "the missus'" washing on the old washing-line, she recalls the season of love and revenge which swept through and turned a dusty collection of bungalows and station home in to the scene of an achingly beautiful tragedy.

"I'm very excited to have Roxanne on board to bring this one-woman show to life," said Farmer. "I was working at Yirra Yaakin Theatre Company when David Milory first began discussing his idea for this show and I was lucky enough to travel to Fitzroy Crossing for the first development phase of writing, so my passion forWindmill Babydates back to 2000."
Farmer was last seen burning up the floor in The Sapphires and worked as Assistant Director to Cristabel Sved on Belvoir's Upstairs production The Businessearlier this year.

Windmill Baby had its world premiere at the Subiaco Theatre Centre in 2005 and was the first Indigenous script to win the Patrick White Award and went to win the 2006 WA Equity Award for best new play, the 2006 Deadly Award for best sound score and the 2007 Kate Challis RAKA Award. Windmill Baby has been performed in Canada, England, India and Ireland.