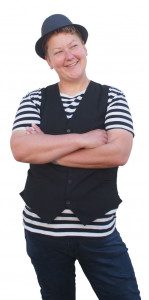 Hilarious, enthusiastic and gayer than Judy Garland straddling a rainbow!
Kirsty Webeck has just wrapped up a hugely successful debut run at The Melbourne International Comedy Festival and has announced encore performances by request.
Laugh until you cry as she takes you through her dubious employment history. Kirsty combines story-telling and observational humour to have audiences in stitches.
In 2013, she told everyone she was a stand-up comedian, so had to write a show and prove it. Now she is selling out shows and announcing encore performances.
So far her comedy career has included:
Four solo shows performed in Melbourne and Canberra to sold-out audiences ('We're 30, Bitches…And Tales of Other Achievements,' 'Kirst Arific is Present,' 'Community Service,' and 'Rebranded.')
Performances at International Women's Day for Joy 94.9 and Raize the Roof's charity cocktail event in Canberra.
The Lesbian Comedy Gala alongside Hannah Gadsby and Denise Scott as part of Midsumma Festival 2015.
Funny Babe Fest at The Butterfly Club in Melbourne 2015.