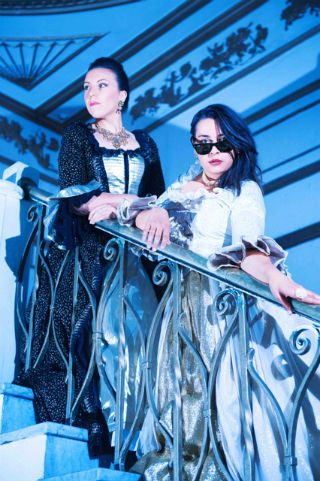 After tackling the sixties horror movie, Psycho Beach Party, Little Ones Theatre's warped vision of this timeless classic is sure to arouse the senses and your loins.
Known for their lavishly kitsch and erotically charged theatrical events, Little One's Theatre opens MTC's 2014 NEON Festival of Independent Theatre on Friday 30 May at Southbank Theatre, The Laweler with an elaborate and seductive vision of Dangerous Liaisons.
A timeless classic famed for its sardonic wit and morally ambiguous depiction of the battle between sexes, Dangerous Liaisons is a lethal drawing-room comedy perfectly poised for attack by the unique brand of high camp synonymous with Little One's Theatre. This production sees sex, gender and power-play riotously take to the stage in an opulent salon of debauchery that is inspired by Charles Ludlam's Ridiculous Theatre, Derek Jarman, high-fashion Rococo and the decadent period pieces of Peter Greenaway.
Director Stephen Nicolazzo said, 'In this production we want to expose the oppressive nature of patriarchy and its influence on the construction of femininity, taking lead from the pretence that Laclos's novel was a moral lesson on the implications of desire, particularly for women. From my point of view, Laclos was taking the piss; highlighting the problematic nature of libertinism and its dominant male voice through acute satire. The satirical and potentially parodic nature of the source text is giving us a license to explore the play and present Dangerous Liaisons in a playful, cheeky and decidedly queer form.'
'I am inspired by period drama as a genre. It is filled with masks, be they literal or ephemeral, corsets, powdered faces, and clothing design to manipulate the body as a means to enforce gender binaries. These oppressive binaries and the contradictions they rouse are ones I want to break down on stage,' he said.
Little One's Theatre is a queer theatre collective, formed by director Stephen Nicolazzo, They are bold, risqué and always comedic, subverting classical theatre conventions through design, style and performance. They have produced works in Melbourne, Sydney and Brisbane, including Salome and the critical and commercial hit Psycho Beach Party. Little Ones Theater are: Stephen Nicolazzo, Eugyeene Teh, Tessa Leigh Wolffenbuttel Pitt and Katie Sfetkidis.
Director: Stephen Nicolazzo; Set Designer: Eugyeene The; Costume Designer: Tessa Leigh Wolffenbuttel Pitt and Eugyeene Teh; Lighting Designer: Katie Sfetkidis; Composers & Sound Designers: Russell Goldsmith and Daniel Nixon; Choreographer: Kurt Phelan; Stage Manager: Harriet Gregory; Production Manager: Rebecca Poulter; Producer: Bek Berger
Cast: Alexandra Aldrich, Zoe Boesen, Catherine Davies, Tom Dent, Brigid Gallacher, Amanda McGregor, Joanne Sutton, Janine Watson
'Perceptive, bold and sharp' The Guardian (on Psycho Beach Party)
'Psycho Beach Party tore through Melbourne like a comedy tsunami…it's only justice that we get to see Little One's Theatre again.'  Time Out
Additional Information
Venue: Southbank Theatre, The Lawler
Season dates: 29 May – 8 June 2014
Opening night: Friday 30 May 2014
Tickets: $25 each
NEON Pass: 5 plays for $100
Booking details: Southbank Theatre Box Office
For further information please visit www.mtc.com.au/neon or call 03 8688 0800