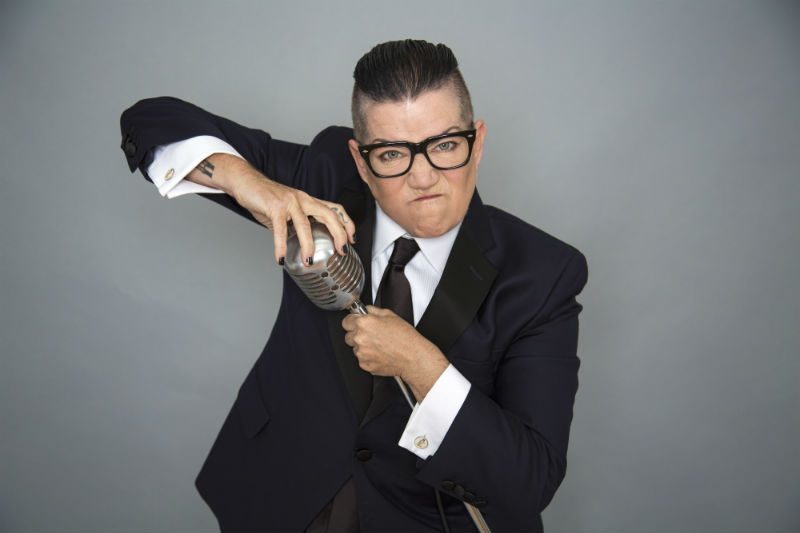 Lea Delaria was the first openly gay comic to break through the late-night talk show barrier.
These days, Lea Delaria is known as a triple threat. The 57-year-old comedian is also an award-winning jazz singer and a seasoned actress. But back in the day, she was known for her brash, blunt and butch-filled stand-up comedy.
Late one evening in 1993, Delaria was responsible for what many consider to be a watershed moment when she performed on The Arsenio Hall Show as the first gay comic ever to appear on a late-night talk show.
This was a huge step forward for LGBT visibility on television, considering it was the early nineties and even Ellen DeGeneres hadn't come out yet. Later that same year, Delaria went on to host Comedy Central's first all-gay stand-up comedy special, Out There.
In addition to comedy, Delaria has been performing as a jazz singer for years. She often integrates music into her stand-up comedy routines and has released a handful of critically-acclaimed jazz albums including 2015's, House of David. As far as acting goes, Delaria became a popular character actor throughout the nineties and into the millennia, appearing on a variety of popular television shows including Friends, Matlock, Saved By The Bell and The Drew Carey Show.
Her most memorable role in the film was as an obsessed lesbian fan in The First Wives Club. But Delaria is perhaps most beloved for her current role as Carrie "Big Boo" Black on the Netflix hit series, Orange Is The New Black.
This now world-famous role was originally written as a bit part, but the writers and produces of the show loved Delaria's portrayal of Big Boo so much that they expanded it. She is now a permanent fixture in a diverse and talented cast that has gone on to win back-to-back Actors Guild Awards for Outstanding Performance by an Ensemble Cast in a Comedy at a time when Hollywood is being criticised for its lack of diversity.
Delaria has continually used her celebrity status to speak out against homophobia and discrimination. She considers herself "unapologetically butch," and is often quoted as saying, "I refuse to be invisible." Because of Delaria's brave visibility on that fateful late-night show 23 years ago, LGBT comics began finally to be embraced and given the opportunity to be taken seriously.