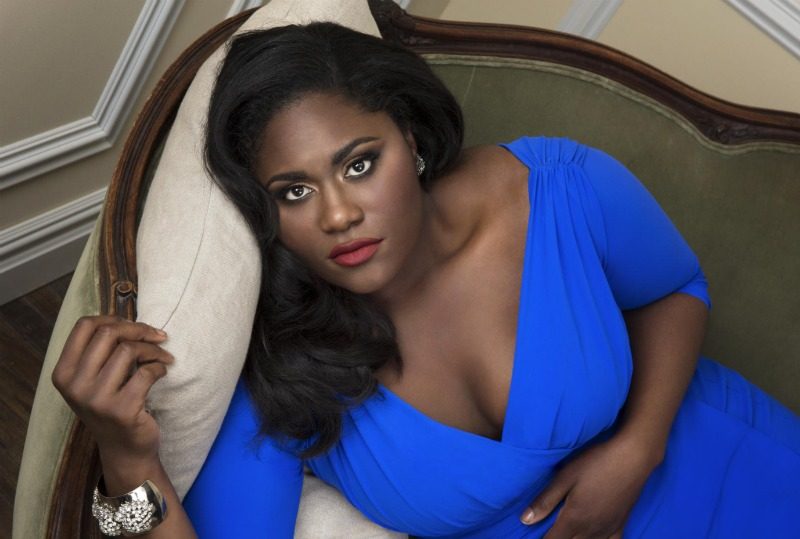 Danielle Brooks talks about Black Lives Matter, body positivity and singing at Samira Wiley's wedding.
I always thought of Danielle Brooks' irrepressible Taystee and Poussey, played by Samira Wiley, as the heart and soul of Litchfield. Sure, Alex and Piper's incessant hate-fucking is entertaining, Boo makes me proud to be a dyke and Nicky's one-liners are gifts from the comedy gods, but it's the bond between these two incarcerated besties that gets me all gooey.
Our boundless love for the duo was why it hurt so hard when (SPOILER ALERT) in the penultimate episode of season four, Poussey was killed by an under-trained guard in a peaceful protest gone horribly wrong. At that moment, Taystee was all of us; heart on the floor, weeping at the injustice of such a beautiful soul being snatched away without warning.
When I speak to Danielle on the phone, she's in an effervescent mood, fresh from a workout, brimming with endorphins and joie de vivre. I hate to spoil the upbeat vibes, but as a certified Orange Is The New Black addict, one of the first things I want to know is how she felt when she found out about that storyline.
"Oh man, it was bittersweet," she confesses in her syrupy, Southern drawl. "I hate not having her there, but now she can fly in a different direction. That excited me, to see my friend spread her wings a little wider."
The blisteringly talented pair have been close ever since they met as teenagers at New York's prestigious Juilliard drama school. In fact, they're such good pals, Danielle wasn't just on the guest list at Samira's recent wedding to Orange writer and producer Lauren Morelli, she sang at it. I Choose You by Sara Bareilles, in case you're wondering. She chuckles as she assures me, "The most nerve-wracking thing you can ever do is sing at someone's wedding, oh my god. I was very honoured to let me be part of their special moment. It was gorgeous."
P's tragic death hit close to home for Danielle and Samira, not only because it meant the end of four heady years spent working together on the smash-hit prison dramedy, but also because the storyline was specifically created to highlight a movement they're both actively involved in Black Lives Matter. As Danielle explains, "There are people out there that live in the boondocks of Minnesota or a small town in North Dakota who probably ain't never hung out with a black person. Now they've experienced a glimpse of what we go through, through the eyes of Taystee and Poussey."
While she's passionate about "the power in telling these stories", she admits, "It can be disappointing seeing how much we invest in a fictional character over real life. I would post about someone who had passed away from police brutality and it wouldn't get as many likes but when I posted about Poussey dying, it got hundreds of thousands of likes. That was heartbreaking." Is it crucial to her as an artist to be so politically engaged? "Hell yes, hell yes," she replies without a moment's hesitation.