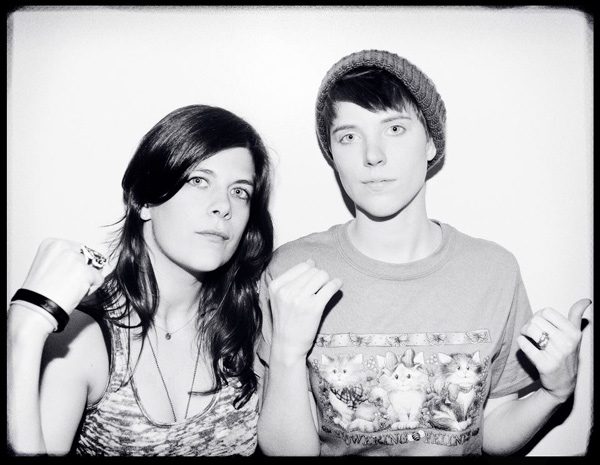 This duo of gay gals are edutaining queer youth one Q&A at a time.
Anonymous asked: "My GF named my vagina. I'm FREAKING out. How do I get her to stop calling it 'my little clam'? Seriously creepy."
Dannielle Owens-Reid advice?
Return the favor: "Call her vag 'Gandalf' or 'Jenny Schecter.'"  If that doesn't work, Kristin Russo suggests: "Start naming other parts of yourself to a seafood-theme—your boobs, like, 'rock shrimp' and 'squid.' ("So, if she's like, 'Mmmmm can I put my mouth on my little clam?' you can be like, 'Mhmmmm and can you put your right hand on my rock shrimp…?'")
This particular nickname-inquiry comes from the FAQ page at Everyone is Gay, an advice website for LGBT youth and allies.
Since 2010, website co-founders Russo and Owens-Reid have been edutaining youth with spunky Q&A; they address typical matters—from coming out to getting down with your lady—with plentiful of cheeky humor.
Their practice has since evolved into a full-fledged organization whose activities include campy lip-sync vids, SXSW presentations and nationwide visits to high school and college campuses.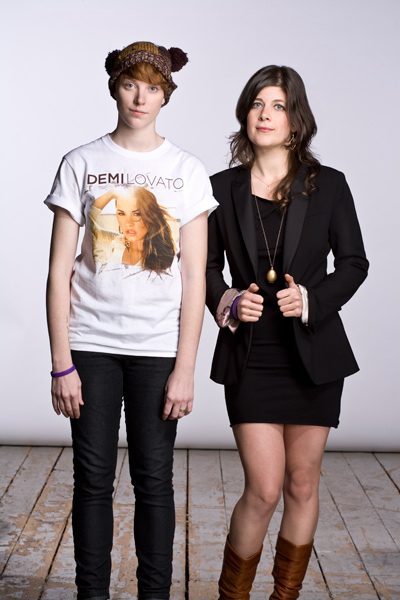 While their "L Word jokes might seem like simple fun, the duo's comedic methods are intended to create safe spaces and stimulate learning. Owens-Reid, who is responsible for the tumblr "Lesbians Who Look Like Justin Bieber," explains the benefits of humor: "We've noticed that when you speak [to youth] about things in a lighter way, and when you incorporate humor, there's a bigger dialogue. [The youth feel more] comfortable talking about things because they're like, 'Oh, this is totally normal because you wouldn't be being funny and silly and dumb about it if it wasn't normal. So, I guess it's okay for me to talk about that.'"
Russo, who has a Master's in Gender Studies, adds that it's good to mix things up with an easygoing attitude. While there's no denying that LGBT issues can be very serious, she says that "it's really positive to look at those issues, but also still be able to laugh, still be able to have a good time, still be able to connect in ways that are not just across the board struggling…" Russo's favorite questions to answer are those that focus on identity, that youth (and everyone else) can be whatever or whomever they want to be; Owens-Reid loves talking about crushing on best friends.
Sometimes Russo and Owens-Reid can't answer every question—and not because they're out of jokes. Some inquiries are about domestic abuse or contemplations of suicide, issues in which neither gay gal has training.
The Everyone is Gay team is now assembling a staff panel capable of addressing those issues. While the website began as an unassuming tumblr, Russo and Owens-Reid march ever forward to meet the needs of youth. They're also developing a curriculum for discussing sexuality in school classrooms and a book for parents with freshly out queer kids.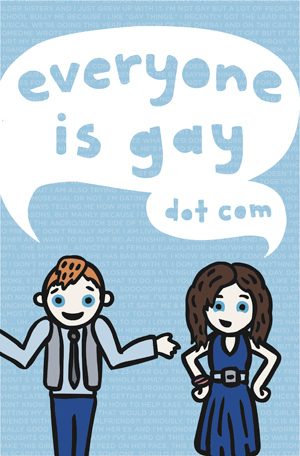 With its humor, honesty and kindness, Everyone is Gay has attracted a large following. In truth, Russo and Owens-Reid named the website after the first funny thing that came to mind. However, the meaning of "Everyone is Gay" grew in significance as youth began sharing emotionally difficult or violent experiences. When asked about the name nowadays, Russo says: "Let's say, 'Everyone is gay.'
Let's say, 'Everyone is trans. Everyone is bi.' Take [sexuality and gender] out of the question and what you're left with is this seeking after your parents' approval. Wanting your friends to understand you. These very essential emotions that we can all understand regardless of our identity."
When the website first started, Russo and Owens-Reid weren't out to save lives, either. But the need for their services grew apparent very quickly. Owens-Reid says: "About three months after we started the site, we were at Brooklyn Pride.
The weather was terrible; we were standing under an Ikea umbrella with just a few stickers for sale, set up on a card table, and a fifteen-year-old girl approached us. She looked us both in the eye and said, '…I just needed you to know that you saved my life…I was pretty close to doing some terrible things, and it's because of you two that I'm alive right now.'
We both thanked her for telling us and hugged her, and I think that was one of the first moments where we were like, 'Oh shit, we have to do this forever.'" (everyoneisgay.com)