Artist and designer Jeremy Michael Calhoun.
The only thing I like more than fashion is art. And when the two combine, I am in heaven. That would certainly explain my recent love affair with The Art of Bowtie, brainchild of
Even when he was a little kid, Jeremy Michael Calhoun was an artist with an interest in fashion, painting, and sketching. A born and raised Texan, he graduated from Wade College in Fashion Merchandising and Design in 2006.
Then something really interesting happened. It was supposed to simply be a theme for a joint birthday party. But it turned his passion for bowtie making into, well, art. And – viola! – The Art of Bowtie was born.
He soon began using reusable and unusual materials to create his bowties, which led him to his very first show of 31 bowties at the ilume Gallerie. He sold out every last tie! People wear his ties, of course. But they also hang them on their walls as art as well.
Calhoun does commission work as well, designing for massive events, like Dallas' Black Tie Dinner, as well as for weddings and other private functions. Fashion and design are his first loves. But his commitment to charity doesn't fall far behind.
He has donated a collection of ties to the Red Foundation to raise money for the Legacy Center and to Life Walk and Deck the Doors for DIFFA.
One of Calhoun's favorite things is creating bowties that speak to his clients' individual tastes and personalities. Knowing my penchant for Rainbow Dash of My Little Pony fame, Calhoun surprised me with a whimsical baby blue leather bow with ribbon accents in rainbow colors that he cleverly attached to a barrette so that I could wear it in my hair. He also made one for me out of black, faux crocodile for the many formal events I attend.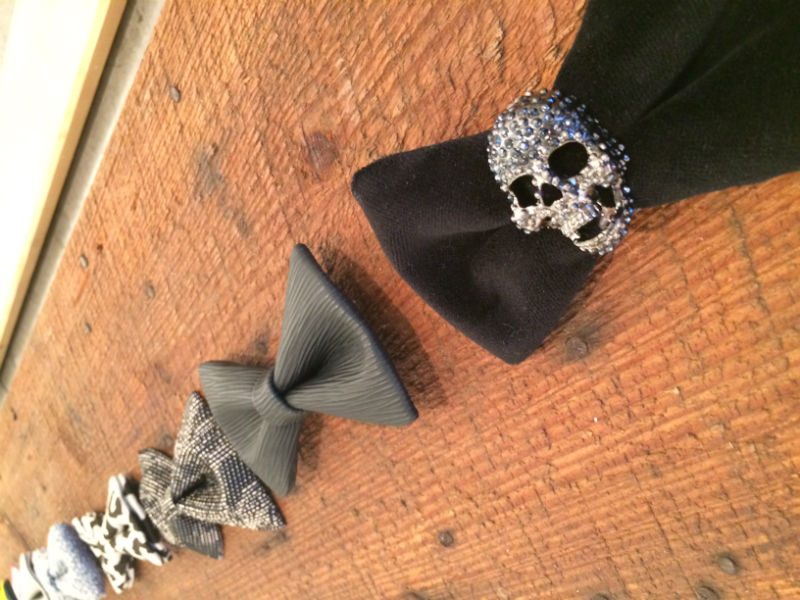 His workmanship is impeccable and his imagination boundless.
He's a lovely person to boot and I was tickled to get to meet him recently at Black Tie Dinner Dallas. I was already a fan of his work. But there's something about knowing the artist and truly liking them as a person that makes me even more of a fan of the work.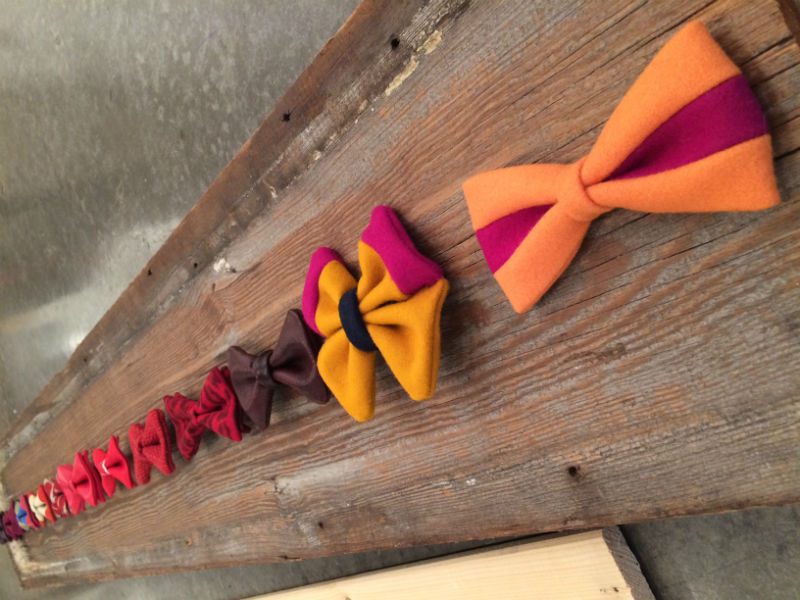 For my next bow tie, I have my eye one of his masterpieces with a rhinestone-encrusted skull in the center. Only this time, I want to wear it as a proper bow tie. No better excuse to get a suit, to my mind!