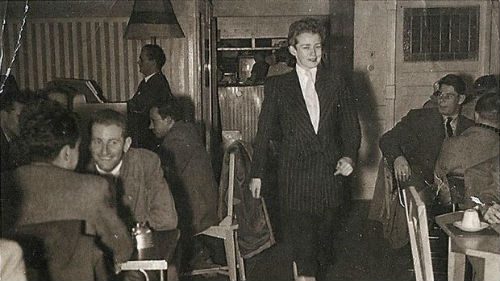 Learn about Melbourne's counter-culture at the State Library of Victoria.
Robert Albert (Lottie) Lott, Val Eastwood, and Noel Tovey are just a few of the camp stars in a new exhibition, Bohemian Melbourne, opening this Friday 12 December at the State Library of Victoria, curated by the library's Clare Williamson, and drawing on loans from the Australian Lesbian and Gay Archives.
The exhibition looks at Melbourne's bohemians from the 1860s to the present day, a thread weaving through the city's history that includes writers, visual artists, composers, musicians, performers, filmmakers, and those who made an art form of their lives. Some are famous; some are surprises.
One important sub-group of bohemia featured in the exhibition is gay culture or "camp" as it was known in the 1950s when Melbourne was dour, and homosexual activity was illegal. A lively underground scene developed, often invisible to the mainstream or interpreted as colourful fun, but also the subject of mockery in the press. Homosexual men and women had their own codes in dress and language, and they partied in private homes so they wouldn't be harassed.
Val Eastwood, a dancer, and swimwear model opened Val's Coffee Lounge in Swanston Street and it became the place to party for the camp crowd, people in the performing arts, and other misfits. It featured live music and attracted actors such as Barry Humphries and Frank Thring, a commanding presence who would sometimes recite a naughty poem or two. Val Eastwood presided in her smart mannish suits, made by an Italian tailor.
Camp culture and the mainstream came together at the charity arts balls at St Kilda's Palais de Danse, where guests vied to outdo each other in wildly extravagant costumes or gorgeous cross-dressing. One group went as characters from Kismet, and their outfits were so enormous they had to hire a furniture van to take them to the ball.
Bohemian Melbourne
Dates: Friday 12 Dec 2014 – Sunday 22 Feb 2015
Location: State Library Victoria's Keith Murdoch Auditorium
328 Swanson Street, Melbourne
Cost: Free
Bookings are not required. Call (03) 8664 7099 for more information. Read more