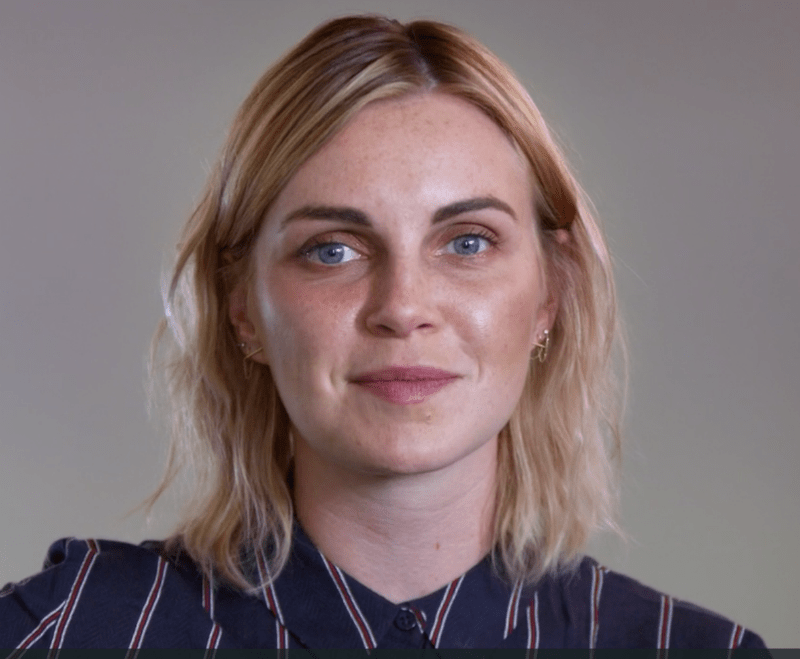 The clothing designer, feminist, activist, and granddaughter of legendary children's author Roald Dahl has an important message.
Phoebe Dahl is not a hard-line political person, and yet she has found herself speaking out in the weeks prior to the US Presidential Election, which is on Tuesday, November 8.
Dahl is the founder of Faircloth & Supply, a clothing label that merges fashion and activism—in particular, empowering young Nepali girls with school uniforms and supplies so that they can escape the cycle of poverty and discrimination in their country that sees many young women enter the sex trafficking industry.
Dahl is not usually one to pontificate about issues, preferring to actually get things done: to date, she and her team have helped 5,000 Nepali girls access education by partnering with Nepal charity General Welfare Pratisthan. For every item of clothing purchased from Faircloth & Supply she contributes two school informs and school supplies. Not only are her own fashion designs affordable, beautiful, empowering and chic—they're helping empower the next generation of women on the other side of the world, too.
Recently, Dahl decided to weigh in on an issue closer to home. "I was out with a group of friends," she tells me in a recent phone interview, "and we started talking about the election, and a friend of mine was like, 'I'm not going to vote,' and I was like, 'Why not?' And she said, 'You know I just don't really care to. I don't know—it's all awful, they're all awful candidates….' And my reaction was so unexpected because I'm not a big politics person, but it touched something inside of me that angered me a little bit: I'm sitting here in Los Angeles with this privileged white woman who is just so blasé about [not] voting and there are women all over the world who are silenced, who have no voice, who have no opinion. Think of a Muslim woman who may have never been able to give her opinion, let alone have the right to vote — it doesn't even exist in her lifetime."
It was that moment among female friends when Dahl saw they all enjoyed a privilege that was being taken for granted: the right to vote, which is a very recent right even in this country.
And in the eyes of Dahl it's not something to be squandered, especially during this election. If you really do detest both candidates she has some words of advice for you: "If you are not voting on behalf of yourself, do some research and vote for something or someone else; vote for the women in Iran or Iraq or India; vote for the women who don't have a voice and who don't have the right to vote. We're so lucky; we have some forms of gender oppression here but nothing compared to the extremes that happen elsewhere."
Dahl, who is 27, and who came into the celebrity spotlight when she was engaged to Ruby Rose (they separated last December) decided to make a video in the style of a PSA to address a historic moment for women. "The main point behind the video is that there is a woman running for president and that is a huge deal in itself. It's so incredible. Everything that our great grandmothers, grandmothers, and mothers have worked for—and we get to experience the results of all their hard work, their labor, their fighting for their future grandchildren, to be able to live in a world where a woman can be president."
And Dahl knows about generations of strong women. Her own grandmother is the Oscar-winning actress Patricia Neal, who had five children, and who suffered three strokes while she was pregnant with her daughter Lucy. Neal went on to come out of a coma and deliver a health baby, and to continue her stage and screen career well into old age. That baby grew up to become the mother of not one lesbian daughter but two! Both Phoebe and her sister Chloe are gay, and have burgeoning careers in LA as fashion designer and restaurateur.
Dahl looks to Hillary Clinton as an example of survival, continuity, and progress for women.
"She's such an incredible example for young girls as well, the next generation—I absolutely believe the most important generation. It really shows them that they can be whatever they want to be including president of the United States." Prior to this election cycle, says Dahl, "that was never really an option for a woman. So I'm super excited to see what this will do for young girls and their confidence, and what this next generation will grow up to be."
While Dahl's generation of millennials continues to debate gender and feminism along the lines of identity, she wants to direct those debates towards a movement. "I think there are a lot of people who have grandiose opinions but they're not really doing anything about it. You don't need to go to an Eastern country to find gender oppression; it's happening all over the place. I think these are important conversations to have because they are slowly starting to educate people.
The way I see it is, ten years ago there was a food revolution…nobody really knew about the fast food industry, factory farming, or hormones and now it's gone through this incredible transformation. It's kind of what I'm feeling is happening right now in the fashion industry—discussions about fast fashion and the use of sweatshops and exploiting women, gender inequality and the gender pay gap, the rise of women's rights and women's voices. I feel like it's just the beginning. It's important to have these conversations. Talking about it means that people are paying attention. I'm hoping that there will be a light shone on this issue and there'll be this transformation."
Phoebe Dahl – Go Vote! from Faircloth Supply on Vimeo.
---
Support your LGBTQI Media