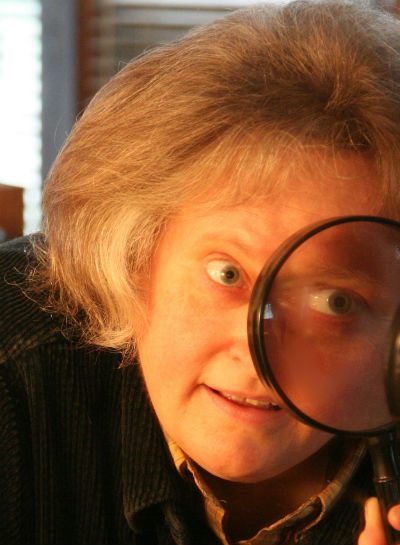 Lesbian novelist, Ellen Hart, breaks the MWA ceiling
Ellen Hart is a lesbian favourite. The author of more than 30 mysteries, including the best-selling and award-winning Jane Lawless series, Hart is the doyenne of the lesbian mystery genre. She's been writing lesbian mysteries–never wavering in her attention to the lesbian community–since her first novel, Hallowed Murder, was published in 1989 by Seal Press.
Now, after three decades of extraordinary work, Hart has been named the 2017 Grand Master by the Mystery Writers of America (MWA).
If you aren't a mystery buff or a mystery writer (I am both), it's difficult to articulate just how big a deal this is. It's more than an Oscar or an Emmy–it's a lifetime achievement award. According to MWA, the Grand Master Award "represents the pinnacle of achievement in mystery writing and was established to acknowledge important contributions to this genre, as well as for a body of work that is both significant and of consistently high quality."
Hart will receive her award at the 71st Annual Edgar Awards Banquet, which will be held at the Grand Hyatt Hotel in New York City on April 27, 2017.
Hart's win represents the first time an LGBT writer has achieved this hallowed Grand Master status.
The author of 32 mystery/detective/crime novels, Hart is also a six-time winner of the Lambda Literary Award for Best Lesbian Mystery, four-time winner of the Minnesota Book Award for Best Popular Fiction, and the three-time winner of the Golden Crown Literary Award for mystery.
Hart is also the recipient of the Alice B Medal and was made an official GLBT Literary Saint at the Saints & Sinners Literary Festival in New Orleans in 2005. Entertainment Weekly named her one of the "101 Movers and Shakers in the Gay Entertainment Industry."
A Minneapolis native, Hart has taught crime writing for 17 years through the Loft Literary Center, the largest independent writing community in the nation, where she teaches "Introduction to Writing the Modern Mystery."
The list of previous Grand Masters is heady–and speaks to how lofty an honour this is. A shortlist includes Agatha Christie–to whom Hart has frequently been compared, Alfred Hitchcock, Stephen King, Ellery Queen, Mary Higgins Clark, Walter Mosley, James Ellroy, Ken Follett, Martha Grimes, Sara Paretsky and Sue Grafton, among others.
Award-winning gay mystery and young adult writer Greg Herren, a previous board member at MWA, put Hart's win in perspective: "This is HUGE, as Ellen is the first openly lesbian writer of openly lesbian crime fiction to be recognized by a national organization of primarily mainstream writers for her body of work." (Daphne du Maurier is a former Grand Master, but was outed posthumously as a lesbian; she was not openly lesbian at the time of her induction.)
Hart, who I have interviewed and reviewed many times over the years for Curve and other literary publications, was characteristically demure about her win. She told me she was deeply honoured by the award, but also put it in the perspective of a win for the LGBT community, not only herself.
Of her work Hart notes, "I don't write about the mean streets. I don't live there…I don't do lots of blood and gore. I don't do sex scenes in any great detail. I'd never kill a dog or a cat. I guess you could call my style, maximal suspense and minimal gore."
In an interview, Hart gave a brief synopsis of why and when she began writing. How the Minneapolis professor evolved into the first lesbian Grand Master was a process that begun nearly 30 years ago.
Hart explains, "In 1987, with my summers free because I was on University of Minnesota time, I began work on my first novel. Before that, I'd been someone who loved to read—and read widely—with a secret desire to someday write something myself. I'd come to the conclusion that if I didn't get down to it, actually try to write a novel, that I'd come to the end of my life with major regret. Enter Jane Lawless [Hart's main detective]. For developing character, I think a writer either mines her own life, or she creates the character out of whole cloth. Jane was a bit of both."
Hart was 38 when the series started. She's 67 now. That gives you a sense of her prolificity. As she told me in one interview, she's contracted to a book a year. And unlike many lesbian writers, Hart's publisher of the past 20 years has been the very mainstream St. Martin's/Minotaur. Her most recent book, Fever in the Dark, a Jane Lawless mystery, will be out in January.
Of Lawless, Hart said, when she began the series, Jane was the same age as she: 38. "We had many of the same instincts about life, although, over the course of [so many] novels, she's moved away from me in many respects. She's richer than I am, better looking, and she's aged far better."
Hart said she and Lawless share the commonality of purpose and moorings–but they do not share other things. "What we have in common besides those fundamental instincts which come, I believe, from Midwest roots, is that we're both introverts. Jane was a hard nut to crack for me.
She's been one of the toughest characters I've ever written. She's heroic, often courageous and generous, but she has her demons, which sometimes cause her to drink too much. I think Jane doesn't really understand herself all that well. She's buried many of her emotions in order to look and act as if she's strong, which is very important to her, as is the feeling that she's in control, but this lack of perspective leaves her with huge blind spots.
She's complex. That's one of her appeals to me as a writer—she's constantly revealing new, sometimes unforeseen, aspects of her personality. Cordelia, the other main character in the series, I nailed immediately. She was always more available to me. She's flat out who she is. You either like her or you hate her. Jane fascinates me far more now than she did when I started writing her."
In one of my recent reviews of a Hart novel I wrote, "Ellen Hart is reliable. That may sound like damning with faint praise, coming from a critic, but rather, it's a relief. When I get an Ellen Hart mystery to review, I don't have to grit my teeth and think about how I will never get those hours of my life back. Instead, I can just settle in and wait to see what she's going to do this time.
"In addition to her reliability as a purveyor of solidly engaging and highly readable mysteries, Hart remains a bit of an anomaly. There are myriad lesbian mystery writers out there, myself among them, but few as prodigious as Hart. Plus, Hart has been with a major mainstream publisher for 20 years, yet hasn't altered her openly lesbian storylines one iota. She writes about us and for us."
Now she is Ellen Hart, Grand Master. An honour well deserved by one of our most beloved and enduring writers. And one in which, thanks to her hard work and immense talent, we all get to share and be proud.