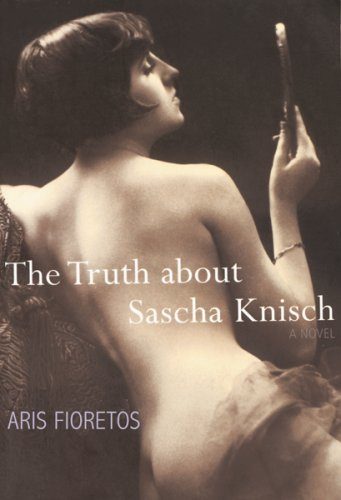 Queer and feminist themes show up in these novels
Aris Fioretos
This is the first novel in English by this rising international lit star, and what a smashing erotic thriller it turns out to be. In it, Sascha Knisch, who works as a projectionist at a movie theatre, has a penchant for cross-dressing but Dora, the enigmatic woman who indulges his fetish, turns up murdered. This leads to a journey through the sexual underground of Weimar Germany circa 1928 in a most clever and audacious story that is marked with riddles. (therookerypress.com)
The Torso (Soho Press)
Helene Tursten
When a torso washes up on a Swedish beach, Detective Inspector Irene Huss must try to solve the crime—and an unsolved murder nearby—using the body's only identifying mark: a mysterious tattoo. Huss, a mother in her forties, is a steady and fully realized character along the lines of Prime Suspect, and The Torso is among the best of the new Swedish crime fiction boom in the U.S. giving the author comparisons to Linda Fairstein. Though this book is a bit older than the rest here, it has a gay link that demands its inclusion. That mysterious tattoo now found on two mutilated and gender-ambiguous torsos are actually the logo for a gay sex shop in Vesterbro ("known as Sin Central in Copenhagen") and may belong to the owner's lover.
A Darker Domain (Harper Collins)
Val McDermid
There is no greater lesbian crime writer than Val McDermid (the Scottish creator of TV's Wire in the Blood and lesbian journalist Lindsay Gordan series). Her new psychological thriller, her 25th book, is her first to really mix fiction with autobiography, somehow making the national miner's strike into both searing political commentary and thrilling feminist mystery. Bonus: DI Karen Pirie is as fascinating and nuanced as any McDermid character yet.
The Prophet Murders (Serpents Tail)
Mehmet Murat Somer
Think Pedro Almodóvar meets Cosmo meets Turkish crime and you get this wildly dark and incredibly clever rom-com-thriller. Something's amiss in Istanbul–a killer is murdering trans women in increasingly bizarre ways. Thankfully, our protagonist is herself a glamorous trans woman (thanks to the translation they're all called "transvestitites" in the book) who is also a glamorous nightclub owner who balances leg waxing, lipstick and stilettos while pursuing the killer.
A Violent Act (Alison & Busby)
Alison Joseph
Now a major BBC radio drama, The Sister Agnes Investigates show revolves around, you guessed it, a nun named Agnes, who in this book is finally "paid-up" on her spiritual dues and no longer confined to the convent. Now living in her own apartment and working at a hostel run by the church, Agnes is plagued by doubts and by death. First, when Abbie is found dead, Agnes wonders whether it is murder or suicide all while enduring an existential crisis over whether she became a nun to avoid real life. (alisonandbusby.com)
A Deadly Paradise (Soho Press)
Grace Brophy
Author Grace Brophy is a New Jersey girl (who lives in New York and Maine now), but her Commissario Cenni Investigations are set in Italy. This one, in the peaceful village of Paradiso, follows the shocking murder and mutilation of an elderly German woman who happens to be a retired cultural attaché. Things get interesting though when Inspector Cenni discovers that the victim was a bisexual swinger with a female lover—and that woman, a young African lesbian and illegal immigrant becomes a scapegoat for the higher-ups. Only Cenni wants to solve the crime without letting this woman get railroaded.
Murder in the Latin Quarter (Soho Crime)
Cara Black
Every book Cara Black writes—this is the ninth in the Aimée Leduc series—is brilliant and readers would be well served to check out any of her recent works like Murder on the Ile Saint-Louis and Murder in the Rue de Paradis to meet French detective Leduc, a feisty broad who wears fishnets, pencil skirts and Christian Louboutin heels— while chasing bad guys. (Think of it as Sex and  the City meets Cagney and Lacey in Paris.) In Murder in the Latin Quarter Aimee's long lost sister appears and soon the sexy dick finds herself embroiled in a Haitian murder mystery—all set in the Latin Quarter, Paris' old university district on the Left Bank of the Seine. The Parisian settings are particularly vivid in this think feminist thriller, especially given that author Cara Black lives in San Francisco.
Cambridge Blue (Soho Press)
Alison Bruce
Crime writer Alison Bruce shows amazing depth in her debut novel about a Cambridge detective facing the challenge of a first investigation. While Blue isn't gay specifically, but worthy of a read if for nothing else than the opening scenes of a woman who thinks she's in control until it's too late.
The Riddle of the River (Felony & Mayhem)
Catherine Shaw
In 1898 England, Vanessa Weatherburn is a seer, a woman with a knack for solving crimes—from murder to blackmail—but this is the first time she's been called on to identify a victim: a young woman found floating in the River Cam. Despite her doubts, Vanessa goes to London and ends up undercover investigating—with the help of the city's academic elite—to solve the riddle of the river. (felonyandmayhem.com)
Buried in Clay (Allison and Busby)
Priscilla Masters
One of Britain's most prolific crime writers, Masters enthralling mystery offers an almost Hitchcockian feel. It begins in 1787, as a man works on a mysterious pitcher, adorned with grotesquery for which we don't understand. Two centuries later, antique dealer Susanna Paris wins the jug at auction beating out another buyer who claims the vessel has pictures of an ancestral home. But soon, strange things begin to happen around Susanna who must figure out what exactly is going on and what the artifact really means.
Die With Me (MacAdam/Cage)
Elena Forbes
It gets rather tiring, the endless parade of mystery novels in which pretty young things are lured to their deaths by serial killers slash perverts. But Elena Forbes novel in which 14-year-old Gemma Kramer's broken body is found on the floor of St. Sebastian's Church—with GHB and alcohol in her system—makes the set-up worth a gander. Die is an expertly plotted and politically savvy debut novel from an author I'd love to see more of.
Green-eyed Monster (Bella Books)
Gill McKnight
Author Gill McKnight divides her time between Ireland and the UK and while this novel of romantic intrigue is a bit lighter than the other more serious mysteries and thrillers on this list, it offers an easy lesbo-centric page-turner. In it, financial analyst Mickey Rapowski has been cheated out of a fortune, but when she turns to kidnap, all hell breaks loose as tables get turned and she falls for her female captive.
Dark Garden (Bold Strokes Books)
Jennifer Fulton
Yet another novel from the prolific New Zealand-born author who writes under three pen names: Jennifer Fulton, Rose Beecham and Grace Lennox. In this dark and romantic thriller, Vienna Blake and Mason Cavender are each the latest in a long line of two feuding families, and they both suspect each other of sinister deeds like murder and sabotage. Oh, and they're sexually attracted to each other. So while it's another easier read than say The Torso, the real lesbian action makes up for it.
Always (Penguin)
Nicola Griffith
There is little this award-winning English-born author does wrong, making her newest thriller is as razor-sharp as her last four novels. Set against a Seattle backdrop, Always follows Aud Torvingen, a sexy, six-foot-tall, half-Norwegian lesbian. (I imagine Bridgette Nelson with tactical skills and a penchant for the ladies.) If that wasn't hot enough, Aud is also a former cop, a martial arts expert, and a PI. When we catch up with Aud (this is the third Griffith novel in which she appears), she is heading to Seattle, still grieving her girlfriend's murder. And before we know it, she's embroiled in another investigation. Throughout, Griffith—one of the most talented lesbian authors out there—weaves in politics, martial arts and sexuality into prose that's brilliantly crafted and far superior to many thrillers. A must-read.  (nicolagriffith.com)