Treat your better half, or treat yourself. Why not.
The way someone responds to an upcoming Valentine's Day can tell you a lot about them as a human being. Whether you tend to feel more cynical or romantic this time of year it's always fun to have a holiday to excuse your shopping addiction. Here's a list of gifts that you could potentially spoil the love of your life with or to use as inspiration for the next 'treat yourself' shopping spree you take.
'Top' and 'Bottom' Couple's Mug Set.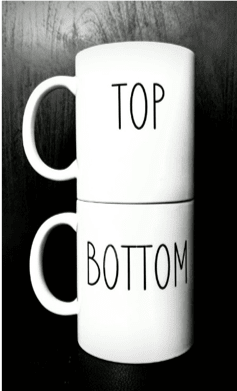 Have you ever woken up shaking in the early hours of the morning in a cold sweat? Were you frozen with fear that maybe your partner would forget their role in the bedroom? Fear no more with these handy mugs that proudly proclaim 'top' or 'bottom' for the partner in your life who needs to be reminded of their place (in the bedroom). The mugs are dishwasher and microwave friendly, and able to hold liquids both hot and cold. And really what more can you ask for in a mug? Find it here
Bath Bomb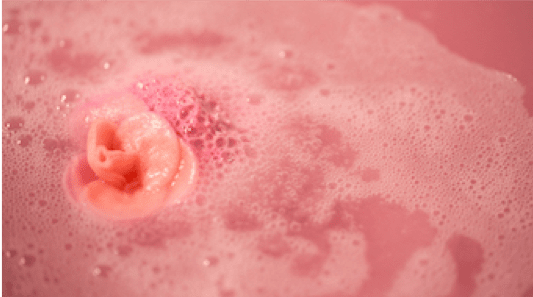 Whether you're alone or trying to figure out how you'll fit two people in the tub, there are few things sexier or more relaxing than a bath. Next time you've just got that feeling that you need some sensual healing grab a Sex Bomb bath bomb from Lush. Take a breath and enjoy the smell of sage, ylang-ylang, and jasmine while you watch the bath bomb fizzle as it turns the water into a beautiful shade of pink. Find it here.
Cards
Maybe you've got something else planned this year, like skydiving or a Tegan and Sara concert coming up, so all you need is something small. I got you. A cute card will tie over the object of your desire. Have a look here or here for some cute cards.
Birkenstocks.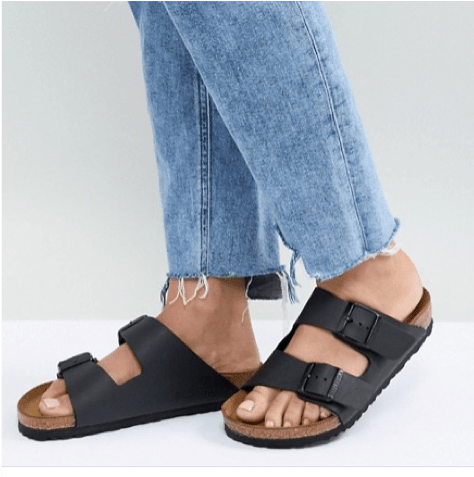 When I'm in a long-term relationship there is nothing more romantic to me than a gift that is both practical and comfortable, while costing slightly more than you're willing to spend on yourself. It just screams thoughtfulness and consideration. Birkenstocks are IN right now. While there may be an old stereotype about lesbians wearing Birkenstocks, its only exists because lesbians know how to spot a comfy trend and are ultimately far wiser and more fashion-forward than straight people. Just facts. Find it here
Double Fisted Dildo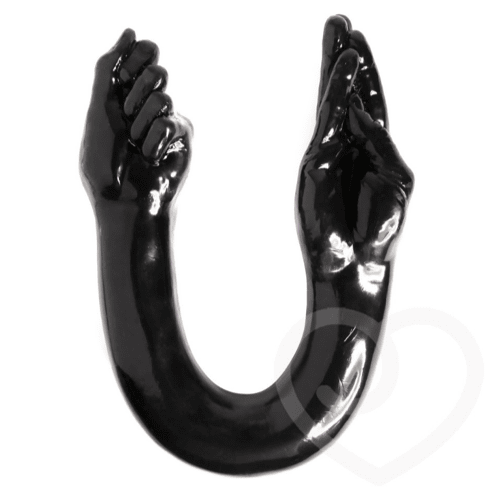 Valentine's Day is wild. Make it even wilder with this huge PVC dildo and let your date know what kind of person you really are. You can buy it here if you want to but… maybe you shouldn't.
Regular Adult Toy.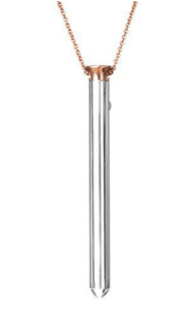 Okay, okay. I know that a double-ended fisting dildo isn't for everyone. Don't fear, they still make non-fist shaped adult toys apparently. In fact, if you want to head in the opposite direction and get a discreet, little sex toy I know just the item for you.  This vibrator is designed to blend in inconspicuously as a cute necklace. The problem now is that every time I see someone with a necklace like this it looks like a vibrator to me. Oh well. Find it here.
The Perfect Man Chocolate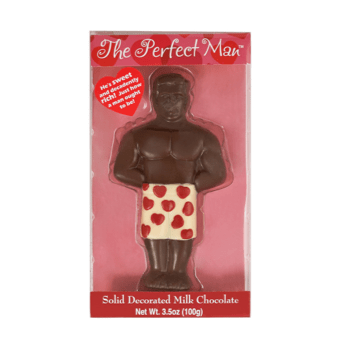 You may or may not be interested in having an actual boyfriend. Regardless of your sexual or romantic preference, we guarantee this is the perfect man for you. Make sure you order your edible boyfriend early to avoid being disappointed (for a change). This milk chocolate man can satisfy your hunger and your heart. Find him here
Cute Jewellery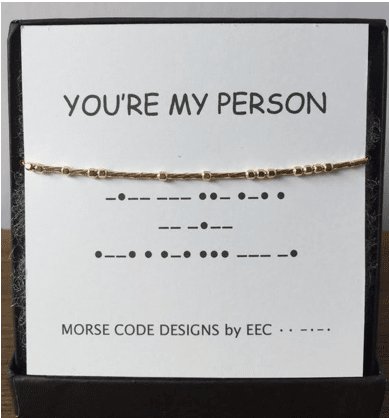 For something that will make your partner blush and go 'aww' as soon as they open the gift, may I suggest this charming Morse code necklace from Etsy store ErinElizabethCarson. You can choose from a range of necklaces, but my favourite says, 'You're My Person', and there's another one that exclaims 'I like Girls'. No matter what you get it's going to be sweet as heck. Find it here.
Picnic Basket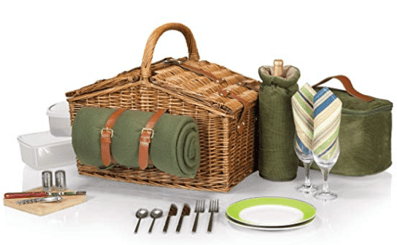 At the end of the day, and the end of the list, there is no present more romantic than a day spent with the person you love. This picnic basket is as special as your relationship with its porcelain plates, wine glasses, cutting board, cheese knife, corkscrew, S&P shakers, insulated cooler bag, and fleece blanket included inside. Perfect for sitting on a hillside and toasting about how much better you are than everyone else. Find it here.
?