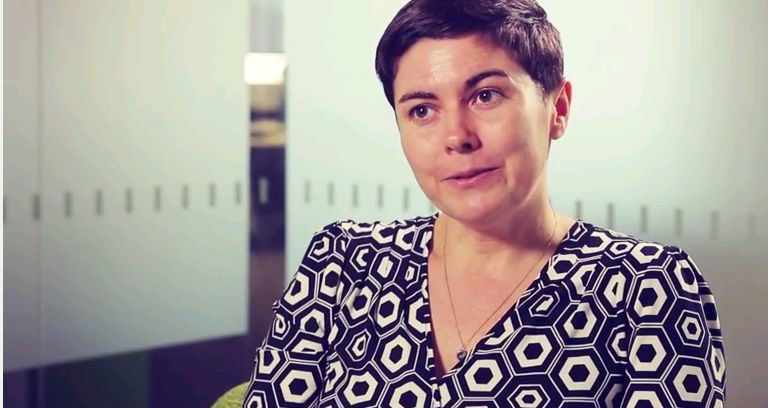 Sydney-based Cassy Sutherland is Change Manager at Westpac, a mother of three and a lesbian.
She started her career in Arts Policy and Management, and her move to Westpac two years ago marked her first corporate role.
The role sees her work on major enterprise-wide projects where she deals with people in all areas across the Westpac Group.
In addition, Cassy sits on the Executive Committee of GLOBAL (Gay, Lesbian, Other, Bisexual and Allies), Westpac's dedicated employee action group for LGBTI inclusion.
In 2013, Westpac ranked equal seventh and was named a Gold Tier Employer of the Australian Workplace Equality Index, Australia's definitive national benchmark on LGBTI workplace inclusion. In 2014, Westpac stepped up to third place and wascrowned the highest ranking bank for the second year in a row.
It's common for many LGBTI people to hide their sexual orientation while they assess the working environment and how inclusive and gay-friendly their colleagues are when joining a large corporate. It is often thought that banking and finance is dominated by conservative old school views which wouldn't suit the LGBTI community.
However, as Cassy will explain, they couldn't be more wrong, with top banks like Westpac exemplifying how big corporates are working hard to build a culture of inclusion and diversity.
Can you tell us a little about yourself?
I am a Sydney girl, born and bred. Although I began my career in Arts Policy and Management, I now work in the position of Change Manager at Westpac and this is my first corporate role. I've been at Westpac now for two years and I'm really enjoying it.
What are some of the challenges and rewards of your position?
Although there are definitely some challenges, they are far outweighed by the rewards at Westpac. I would say some of the challenges include rapidly understanding the business units' unique requirements and impacts to the proposed changes. In terms of the rewards however, theyinclude working with great people.
Being part of a large organisation like Westpac has also enabled me to have access to resources I didn't have within reach when I worked in small arts organisations. Westpac connects me to mentors, a community of practice, study assistance and groups like GLOBAL.
How has Westpac helped support you with regards to same-sex benefits?
Within GLOBAL, we have a responsibility to ensure that all of our policies at Westpac include same-sex employees. So when it comes to things like family benefits and parenting leave, at Westpac they include same-sex partners and rainbow family set ups.
As a mother,it's really important to have flexible work arrangements as they mean I can balance my fulltime career and parenting at the same time. Westpac has great flexibility working arrangements on offer, so I work from home once a fortnight so I can pick my kids up from school and work hours that suit so I can attend important things for my kids like school events.
How has being gay affected your choice of employer, or your work?
I have been very fortunate that being gay has never been an issue and it has never affected my work or choice of employer. Previously I worked in the arts where being gay was never an issue. If anything, being gay means I always chosean organisation that embraces diversity as it's very important to me.
Describe your experience as a member of GLOBAL?
I really love being part of GLOBAL. Currently I am on the Executive Committee of GLOBAL, which means I'm responsible for staff development and training. At present we are rolling out Inclusive Language training across all of Westpac, a program which helps explain what each letter of LGBTI stands for and talks about non inclusive (homophobic/ transphobic) language and its impact, providing scenarios for people to discuss.
What are some of the goals of the action group?
We have different leads on the Executive Committee who are responsible for different streams. They include policy, community engagement, events, staff development and training.
Our overall goal is to build a safe and respectful work environment for all LGBTI employees; one that values diversity, creating a culture of equality and inclusion. My person goal is that all 37,000 Westpac staff will receive Inclusive Language training and will know and understand what LGBTI stands for.
Our largest event of the year is IDAHOT Day, which stands for International Day Against Homophobia and Transphobia. As a result, our ATMs were re-branded with IDAHOT screens, featuring a 'W' Rainbow flag and the StGeorge Bankdragon featured a rainbow colored flame coming out of his mouth. We also produced a video where many of our Executive Team, including Westpac Group CEO Gail Kelly, spoke out against Homophobia and Transphobia and how Westpac supports "you being you".
We recently participated in World Aids Day – Westpac volunteers folded ribbons and sold them in the Kent Street lobby in Sydney and sponsored the World Aids Dinner Gala dinner.
Westpac employees have also marched under the Pride in Diversity banner for the last two Mardi Gras events in Sydney. In terms of sponsorships, our financial arm BT have become a principal sponsor of the It Gets Better group which works to help young LGBTI youth cope with harassment and discrimination relating to their sexuality, while StGeorge Bank has just signed a two year partnership with QueerScreen.
How has it positively affected your experience at Westpac?
The Inclusive Language training has been well received and has provided me with amazing career development. As a result, I've stood in front of 60 people at a time with a colleague to discuss Inclusive Language and what LGBTI is, so it's been a fantastic experience. I also give my own personal anecdotes about how many people assume I'm heterosexual when I mention my children and how important inclusive language is to assure there are never assumptions in instances like this.
I also enjoy the social interaction and the network opportunities. As Westpac is a large organization it is wonderful to have the opportunity to meet people.
How do you think Westpac celebrates diversity?
Inclusively. Westpac ensures everyone has the opportunity to celebrate diversity. I am a member of three Employee Action groups: GLOBAL, Women of Westpac and Brother and Sisters: Aboriginal and Torres Strait Islander Employees. An employee does not have to identify with a particular diversity group to be a member but must believe in the Employee Action Group's Missions. For example, in GLOBAL over half our members are 'Allies', heterosexuals who believe in a safe and respectful environment for all employees, including LGBTI. All our events are open to every Westpac employee.
What would your advice be to an LGBTI selecting an employer?
Personally I could never work for an organisation that does not only accept who I am but also does not value diversity. Your wellbeing is important so feeling included in your working environment is not only a vital contributing factor, it's a necessity.