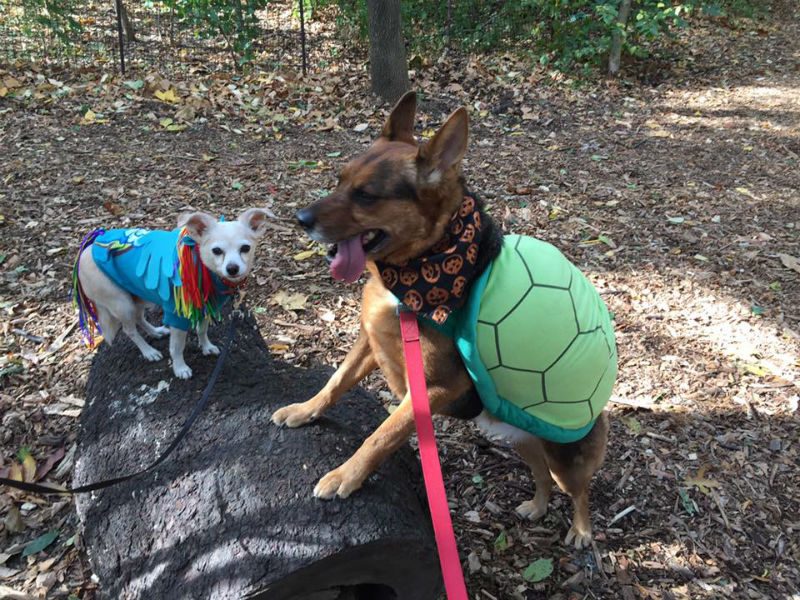 Do you come out with your pet?
For Halloween this year I didn't finish my own costume, instead I made sure my dogs'outfits were ready for the holiday (I tried to put Halloween shirts on our cats — that didn't go very well).  This year my 14 year old Chihuahua was Rainbow Dash, and my big dog Charlotte was Rainbow Dash's pet turtle Tank.
They were a cute duo and when my partner and I brought them out for our festive and traditional Halloween weekend park walks I didn't think much about their costumes, or what I was signifying by them, I wasn't thinking about anything other than taking some cute pictures.
When we went outside our dogs got lots of smiles, and laughs and even a few people wanting to take their picture. What they also got, which surprised me, was a not insignificant number of  questions and overall gender policing, especially Mercury in his My Little Pony outfit.
When we were walking we had several children stop us and ask "is that a boy or a girl" and then when we said he was a boy, we were asked "why would a boy dress like a My Little Pony?" followed by statements like,"Boys don't like My Little Pony"and "Ewww!"
These comments came from children in Brooklyn, New York, one of the most liberal places in the country. Clearly these kids were learning these messages somewhere, and it was scary to see how deeply held in 2016 their ideas about gender were — to the point that they were  being hurled at a cute little dog in a Halloween costume.
Now this is a minor sort of homophobia and gender policing  isn't new for my little dog who walks around in a glittery rhinestone collar every day, and who once had a boyfriend he was deeply in love with (who moved away to San Francisco with his parent).
My followers on Facebook and twitter shared similar experiences — not always about their pets Halloween costumes (obviously) but sharing the experience of being queer pet parents and needing to come out. Sometimes these moments of coming out present opportunities to do LGBTQ cultural education, but sometimes they are challenging as we have to ensure that because of our sexual orientation/gender identity our pets are given the kind of treatment they deserve from pet professionals.
A common experience shared with me on social media was from LGBTQ pet parents partnered and otherwise having to continually come out at the dog park, or the groomer and worrying that their pet will receive second  class treatment because of the homophobic/transphobic biases of the pet care professional they are entrusting their pet to. This might sound like an exaggeration, but it's a real fear for a lot of LGBTQ pet parents across the country.
My partner and I have experienced homophobia from previous veterinary clinics, and as a teenager homophobia from my dog sport coach, and dog show friends  (who I lived with) led to my becoming homeless and ultimately having to re-home the dogs I had at the time. In a funnier example — I once wrote an article for another publication about how to negotiate your date/partner's boundaries about having or not having your dog in the bedroom when you have sex.
Over the course of the article I also mentioned that talking about consent and boundaries comes really naturally to me because of my involvement in the BDSM/Leather community – and I got an AMAZING and pretty funny comment back that un-ironically went all "think of the children" moral panic with a "If you and your partner practice BDSM, should the dog be exposed to the noises at a young age?"
I know firsthand how damaging homophobia and transphobia from pet professionals can be, and that certainly impacts my commitment to being out while I am in the world with my dogs — be it assisting at agility classes, going to the vet with our geriatric cats,  or taking my dogs for a walk in the park. My partner and I also make a practice of hiring queer pet-care professionals whenever we can.
Cat groomer? Queer. Pet sitter? Queer owned company. Dog trainer? Queer. It makes me feel safer to know that our pets are cared for by other LGBTQ people who share our values, respect our family, and will treat our pets the same way that we do. For many LGBTQ people our pets are our kids, not only are they are children.
Many of us have been stripped of biological family connections and have  had to build our own families, and for a lot of LGBTQ people our definition of family includes the dogs or cats, or rabbits, or horses, or lizards  etc. we share our lives with. 
What about you? Do you find yourself having to repeatedly come out at the dog park? dog daycare? vet? do you seek out LGBTQ owned companies when looking for services for your pets? Have you ever experienced homophobia aimed at your pet?