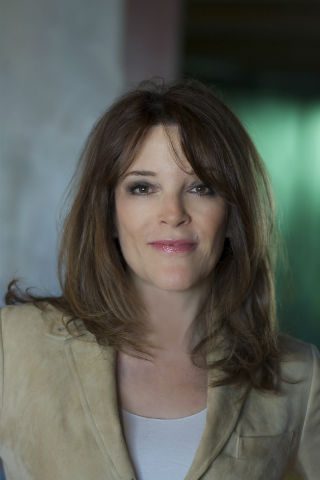 Author, LGBT ally and political candidate Marianne Williamson opens up about family equality.
There are an estimated six million families with parents who are LGBTQ in the United States.
Author Marianne Williamson is an internationally acclaimed spiritual author and lecturer.
She has been a popular guest on television programs such as Oprah, Larry King Live, Good Morning America and Charlie Rose and recently became a candidate for the U.S. House of Representatives from California's 33rd District.
Her newest book, A Year of Miracles was released in December 2013 and she is also the author of 9 other books, including the New York Times best seller A Return to Love.
Fertility Planit, the leading digital media company for family planning with a reach of 4 million worldwide, helps people explore options for creating families, offering information, support and inspiration through original content, live conferences and connecting experts and consumers online.
More than 200 experts, celebrities and sponsors representing health, wellness, fertility, family planning and family equality services will discuss hot button topics including family equality, fostering to adopt, and creating an LGBT family.
What's your connection to the lesbian community? 
While I am not a member of the lesbian community, I am a strong supporter of LGBT rights and believe that all Americans, including those in the LGBT community, should be able to get married, pursue a livelihood free from discrimination and have all of the rights afforded under the U.S. Constitution—not because of their sexual orientation but because they are American. It is as simple as that.
Why did you want to speak at this event? 
I decided to speak at the Fertility Planit event because since the late '80s and early '90s, when I founded Project Angel Food, a meals-on-wheels program that serves homebound people with AIDS in the Los Angeles area that still delivers hundreds of thousands of meals a year. Today, there are new challenges facing the LGBT community around marriage equality and rights involving family planning.
As a candidate for Congress in California's District 33, I will if elected take a stand for equality among all Americans, including the LGBT community. Equality of pay should be guaranteed, and I will push to remove any legal barriers to individuals starting a family regardless of their sexual orientation.
 What is your view of and mission for LGBT equality? 
For many people, getting married is one of the most important things they will ever do in the pursuit of happiness. Currently, 17 states and the District of Columbia allow for same-sex marriage, but 34 states (including Utah for now) have a constitutional or legislative ban on same-sex marriage.
I strongly support the current legislation calling for a repeal of the Defense of Marriage Act of 1996.  Known as The Respect for Marriage Act, this current bill calls for the federal government to recognize the validity of same-sex marriages.
The 1964 Civil Rights Act was not just about equality in one sphere of life. It was about full equality in the eyes of the law. In recent years, marriage equality has made important strides, but there are other spheres of inequality that continue to exist and to which we must no longer turn a blind eye.
It is also critical that we remove any policy or legislative barriers that restrict parenting and parenting rights by LGBT parents, including second parent adoption. Adoption is one of the primary ways in which the LGBT community creates families, and that right must be protected. I believe the family should expand within our national lexicon to include all families.
Tell us about your recent book, A Year of Miracles, and how it might be inspirational to lesbians.
I don't think our need for inner peace has anything to do with gender or sexuality; it's a basic human need. The prayers and devotions in A Year of Miracles speak to the heart within us all.