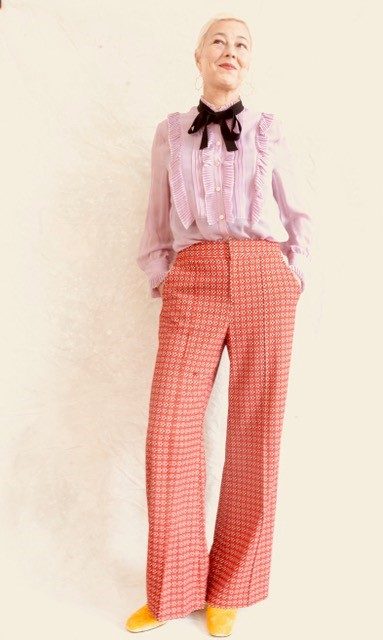 Heather Reid, the alt rocker who formed The Murmurs with Leisha Hailey had quite a journey since her days with the band.
She had twin boys with her ex-wife, got remarried, and is now successfully navigating co-parenting with her ex while enjoying being married to the love of her life. Shortly after she got remarried, however, she was diagnosed with Acute Myeloid Leukemia and battled for her life—spending three months in the hospital and enduring chemotherapy, radiation, and a bone marrow transplant.
I can't spend time with my friends. I can't go out to a restaurant. I wipe down any packages or food containers that come into my house.
When I do have to go outside, I need to wear a mask and stay as far away from everyone as possible. A trip to the grocery store or gas station fills me with dread, as if I'm risking my life. I am risking my life.
No, this isn't the coronavirus pandemic. It's what my life was like last year when I was fighting Acute Myeloid Leukemia (AML for short).
I was diagnosed with AML less than a month after my fairytale wedding to the woman I'd been waiting my whole life to fall in love with. Less than a month later, instead of being on honeymoon somewhere dreamy celebrating the rest of our lives, Allison was hunkered down in a hospital room with me, sleeping on the pullout chair next to my bed.
She never left my side. But there was nothing dreamy about our lives; we were living in a nightmare. I went through intense chemotherapy and radiation. My immune system was severely compromised as the treatments brought my blood count down as low is it would go in an effort to eradicate the leukemia from my body and prepare me for a bone marrow transplant. Even the smallest bug could end my life… and some tried.
So yes – I know a lot about social distancing and sheltering in place. It's been one year and two months since my bone marrow transplant. The journey was a massive mountain that I was both eager and terrified to climb. But I did – I made it through. I'm back!
And I want you to know that it's OK to feel whatever you're feeling. That it's fine to be scared and feel lost, but even in the darkest times, there can still be light and joy and love. They may show up in unexpected ways, but they are always there.
You just have to work extra hard to find them. I know we can get through this and come out the other side, better and brighter for the experience. Here's my two cents:
Don't underestimate the power of relationships. My friends have been my family for many, many years. Knowing they were with me in spirit and praying for me was so important. Hearing that a text, an email, a kind thought was sent my way touched my heart so deeply and gave me great strength.
I always had reason to feel love in my heart even when I physically felt the worst. I was also struck by the doctors and nurses who looked after me. Taking in their brilliant minds, how hard they worked and – most strikingly – how consistently kind they were gave me huge emotional strength and determination.
I wanted to be a success story for them as well for myself. These people had chosen a career to care for others and save lives. I was constantly filled with awe and gratitude to be a recipient of the deep love from all those around me.
I was also lifted by the power of meditation. I am a big believer in the practice of meditation. I watched the movie HEAL while I was in the hospital and was drawn to the belief that I could help heal myself. During my treatment, I was doing a Ganesha (the remover of obstacles) "healing" meditation every day.
My friend, Suzanne, told me to download the chants, saying they were hugely powerful. Even though I had no idea what I was chanting, I could feel the energy of the words. I believed. I remember giggling to myself, wondering what the nurses thought when they came in to check on me.
I knew it shouldn't matter what other people think, but I'm me – so of course it did matter. "It's just a meditation – not a cult," I said, trying to assure the nurses that it wasn't the meds making me crazy. "I'm not speaking in tongues; it's a healing chant." I needn't have worried; they understood, and they also encouraged me.
When I finally came home, I was introduced to Dr. Joe Dispenza's teachings (he's featured in the HEAL documentary). I continue to do his meditations every day, and I believe that they are a large part of the reason I'm on the other side of the nightmare.
Being in the hospital was extraordinarily challenging. Three long stays. I was uncomfortable, isolated, and so sad. I'd stare at my feet and the clock on the wall lit by the moody glare of the lights from the machines I was constantly hooked up to. It was my only resort when I couldn't sleep through the long nights. I was desperately missing my twin boys and I couldn't always FaceTime with them because I was either too sick or I couldn't bear for them to be upset by the condition I was in.
I would hide under my blanket for alone time to escape from the non-stop action that comes with being a patient – the beeping of the machines caused by a kink in the tube going into my arm, people checking my vitals, giving me medication, and the ever-constant physical pain. It all felt soul-crushing at times.
I was constantly battling the "Why me?" voice in my head. I felt so claustrophobic, and I was fighting off depression. But I knew that I had to keep fighting and keep believing that I could get back into the light.
To minimize the risk of me catching anything, only a handful of friends were allowed to see me, and they always brought joy and sunshine into my hospital room. We'd cry sometimes, but mostly we'd laugh (apparently, I was extra funny when I was high on morphine). One time, Suzanne got so loud that the nurse came rushing in to make sure everything was ok. This only made us laugh even more. Laughing when you're not supposed to is some of the best medicine a girl can have.
I have a huge will to live. I love Allison and my two boys from the depths of my soul. I love and treasure my friendships and strive to be the best I can possibly be for these incredible people. I want to be just as caring and present as my sweet crew is for me.
I love myself more today than I have ever loved myself. I love how creative I am. I love writing songs and performing. I love to laugh, but overall, I just love to experience love. I feel so grateful to have been put together with these beautiful souls that I'm bonded to this time around.
I went through what I went through because l want to be here. I want to watch my kids grow up and be present with them. I want to continue to dance within the romance that I have with my beautiful wife. I want to play with my friends and I want write music that makes the world sing with me. I want to soak in and enjoy every single moment that this beautiful journey has to offer.
The minute I got the go ahead to be mask-free (metaphorically speaking), I jumped right back into a new world. There was no place for the old me and my old reality. There was no way I was going to let the broken record player of anxiety that ran in my mind impair my new existence. I realize how precious life is…and not for one moment am I going to let those old ways of thinking squash my second chance on this planet.
So here I am back to social distancing…but I am safe in my nest with my beautiful boys, my incredible wife and our sweet pup. Our daily routine includes remote learning, exercising, accepting that I don't have a gift when it comes to cooking, working on my musicals, and laughing over the phone or zoom with my dear friends. We are all in a desperate search to find the humor in all of this and lift each other up when we start to struggle.
I've never been more authentically grateful than I am today. While the stress, anxiety, and loss is very real and can't be ignored, it is still powerful and important to look for the charms within a day to inspire us and make us stronger. When this terrifying COVID-19 situation does eventually heal, I hope that people will be able to receive the beautiful gifts (big or small) that life has to offer from a higher level of awareness. It's my hope that we can expand our newfound energy in gratitude and love to our communities and our planet. For me, gratitude has been the key to my healing process. It saw me through my darkest times and kept my light alive.