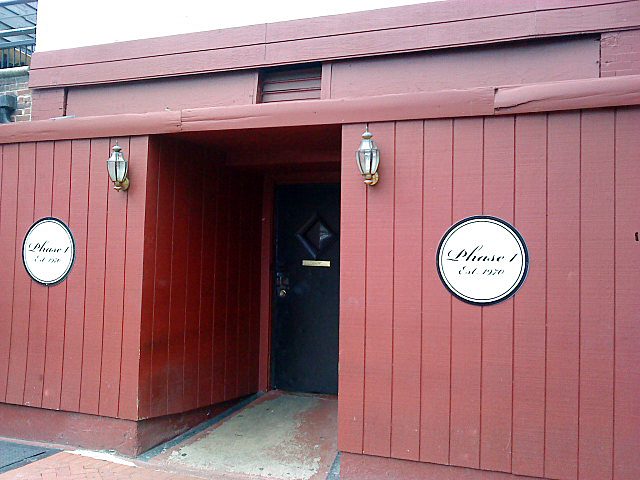 Phase 1 was the nation's oldest lesbian bar and the last remaining lesbian bar in Washington, D.C. It closed its doors for good in the winter of 2016 and, unfortunately, this happened well before I turned 21.
The closing of Phase 1 was certainly sad for many people my age, but it did not leave a hole in our hearts or in our social calendars the way it likely did for older lesbians. It would be near impossible to miss something we never got to experience. Last year, I took a class in lesbian history, which focused on some of the histories of lesbian businesses and communities. I started to notice when lesbian businesses continued to close down across the nation and realized that Phase 1 was not shut down by mere coincidence. Lesbian businesses, bars, cafes, and bookstores are closing all over the country. Phase 1 was collateral damage in what appears to be a national trend.
I've learned that the millennial generation has little to no appreciation of lesbian spaces or businesses and thus does not feel inclined to support them. I believe that this is the result of the fact that most people in my generation never felt the need for these businesses in the way older generations did. My generation grew up with Ellen, Laverne Cox, Lady Gaga, Miley Cyrus and other LGBTQ+ women gracing our screens. We grew up with Human Rights Campaign stickers on our laptops and listening to Katy Perry's "I Kissed a Girl." This is not to say that we do not have a long way to go to advance the rights of the LGBTQ+ community, because we do and I do not want to downplay how much work we have left. However, previous generations made great strides that led us to where we are today, which is with a significantly more mainstreamed LGBTQ+ movement. In other words, lesbians often do not feel that they need businesses that specifically meet their needs.
This is both a challenge and an opportunity for businesses seeking to serve today's lesbian community. The challenge is that younger lesbians do not have a cultural understanding of why lesbian businesses are important to support. As the people who pioneered these businesses grow older, they are struggling to engage younger lesbian consumers because there is a cultural divide. Businesses hoping to serve the lesbian community need new tactics to engage the growing demographic of younger lesbians. The challenge is finding a way to make these businesses relevant to lesbians who do not feel that they need these spaces in the same way older generations did. This is also a business opportunity to reinvigorate a consumer base that has not yet been tapped into. Businesses hoping to engage with a lesbian consumer base need to craft a compelling, fresh narrative that appeals to today's lesbian community. This new narrative needs to successfully demonstrate why they need lesbian businesses and why they should support them. While this will certainly be challenging, there exist significant opportunities to revive the lesbian consumer base.
As lesbians feel more included, it becomes increasingly challenging to show why they still need businesses that cater to them. One successful example is the HER dating app. HER fits the needs of younger lesbians because apps like Tinder are known for not being friendly to lesbian/queer women. Another example is Subaru. When Subaru targeted the lesbian market, its sales soared. By identifying where lesbians are excluded and creating a new space for them, and by utilizing a well-crafted narrative to drive the demand of lesbian consumers, businesses today can better serve the lesbian community.
This essay won the 2017 Olivia Scholar trip Award.