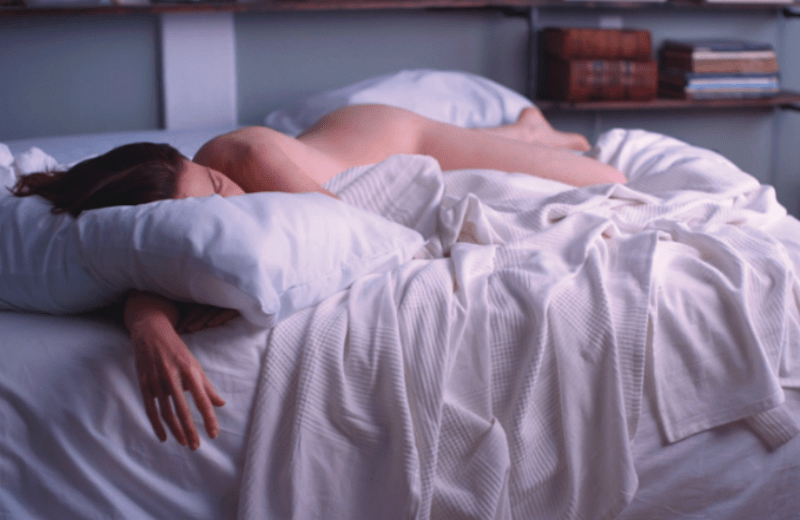 Going Crazy on Screen, Looking for lesbians at the movies.
The morning I began writing this, a friend in the U.K. tweeted that her local library refused to post a flyer about an upcoming lesbian film festival. It was, the library told her, too controversial.
I was stunned. It was only a flyer. No one was asking to show lesbian erotica in the children's section.
And yet, I could also understand why the library might be concerned. The pornification of lesbianism in the film was codified decades ago.
Watching two beautiful women have sex together has long been a straight man's fantasy.
But that faux depiction of lesbianism as something for men—featuring lesbians replete with long lacquered nails and flicking tongues—has now infiltrated mainstream films, even films directed by women. Extricating ourselves from the male POV has proven to be a difficult task. Films in which we can see ourselves—our true lesbian selves—are still very much a work in progress.
Before I knew I was a lesbian, I fell in love with women on the big screen. Since then, I've taught and written about film, even co-authored a book, Film Fatales (with filmmaker Judith M. Redding), on women and film.
For me, the movies and lesbianism are inextricably connected, which makes my desire to see films told from our point of view all the more pressing—and tantalizing. Yet if the films that tell lesbian stories via the female gaze have been few, even fewer have been those that tell our stories without conflicting tropes: the woman might be bisexual, not lesbian; a lesbian is often depicted as deeply, irreparably damaged—even psychotic.
For decades, the pathologizing of lesbianism has been a dominant theme in mainstream cinema. The 1960s presented the oppressive lesbianism of The Fox, The Killing of Sister George, and The Children's Hour. The 1970s eroticized the killer lesbian in a dozen vampire films. The 1980s turned lesbians into actual killers in Windows and The Hunger, while the 1990s continued the trend with Heavenly Creatures, Bound, Sister My Sister, and, of course, Basic Instinct.
In the 2000s, the murderous or suicidal or drug-addicted lesbian appeared in High Art, Lost and Delirious, The Edge of Heaven, and Mulholland Drive, but assimilationism also churned out some frothy lesbian romances: Imagine Me & You, Kissing Jessica Stein, and I Can't Think Straight.
There have been more lesbian-themed films since 2007 than in the 30 years prior, but mainstream depictions of real-life lesbianism remain maddeningly elusive. And they're still almost always telling one of two stories: Coming Out or The Crazy Lesbian.
I remember my anticipation of The Kids Are All Right (2010), with its two Oscar-winning actors as leads and a lesbian director. The buzz was so intense. And then the film itself slapped me hard, not only with an incomprehensible liaison between one of the lesbian characters and a man but with concomitant and seemingly endless scenes of heterosexual sex and no lesbian sex scenes. My disappointment was immense.
Finally, there was a mainstream lesbian film not about coming out or psychosis, and starring two superb middle-aged actors a breath away from 50—yet, the story was really about the dissolution of lesbianism, it's slapped-together ending notwithstanding.
Meanwhile, that same year, Natalie Portman won the Oscar for Best Actress for her role as a deranged ballerina, Nina—one of the most pathological lesbian characters in years—in Darren Aronofsky's Black Swan. While, from a fetishistic perspective, the scenes with Mila Kunis were super-sexy, overall, Black Swan was an extremely dark presentation of a mentally ill lesbian.
None of these women was any more familiar to me than the on-screen lesbians of decades ago. What I want to see is lesbians who look not just like lesbians, but like us, living our real, non-psychotic, non-sleeping-with-men lives. Watching The Kids Are All Right was like watching Personal Best with the women grown to adulthood. The outcome was the same, despite the 30 years between the two films. Society's criteria for inclusion had not expanded and cinematic depictions of us had not improved.
No lesbian film has created more controversy than last year's winner of the Palme d'Or at Cannes, Abdellatif Kechiche's lesbian romance, Blue Is the Warmest Color. The graphic, extended sex scenes, shown without background music, created quite a stir—but the film also got a standing ovation from the Cannes audience, and the jury, led by Steven Spielberg, was adamant that it was indeed the best film, not just the most daring. The jury gave the award to the director and to the film's two stars.
And for all the controversy, including complaints about the director from the two lead actors, Blue was a sincere and solid evocation of a realistic, if heartbreaking, lesbian love affair—a film that belongs on the plus side of the lesbian cinematic canon, not in the discard pile.
Stacie Passon's Concussion was another impressively compelling film from last year, even though it again tells a story of The Crazy Lesbian, in this instance a 40something woman who begins living a double life as a lesbian prostitute after an accident makes her realize how much is lacking in her relationship with her wife. But Contracted, also released last year, gives us a vile scenario of lesbianism, rape, and infection that epitomizes all that can go wrong when men write lesbianism for the screen.
One of the ironies of the assimilation of lesbians into straight culture is that mainstream films about us are becoming fewer and fewer. I've been a judge at Q Fest, the Philadelphia International Gay and Lesbian Film Festival, for years.
Lesbian films that will get distribution to theatres are becoming rarer, not more plentiful. Searching Netflix or the indie circuit for new lesbian films reveals that, for the most part, the same two themes prevail: coming out and psychosis.
Yet it's on that indie circuit that the best lesbian films are still to be found. The majority of them are foreign, like Blue. Stunning films like the 2011 Sundance winner, Maryam Keshavarz's Circumstance, about young lesbians in the antigay environment of Iran (the film was banned in Iran and Keshavarz has been barred from returning to her native country), or Indian filmmaker Deepa Mehta's lush and emotionally wrenching Fire, or Baltasar Kormakur's complex and brooding 101 Reykjavik, situate lesbians of various ages within the larger context of the milieu in which they live–and the conflicts those milieus create.
Black U.K. genderqueer director CampbellX's new film, Stud Life, broadens the depictions of lesbians still further as gender and lifestyle blur. CampbellX describes her film as "a postmodern LGBT She's Gotta Have It for the YouTube generation," and says her film deals with sex and sexuality and taboo subjects in the queer community.
CampbellX's film and Dee Rees's Pariah, which tells the story of a 17-year-old African American lesbian as she navigates life in her Brooklyn neighbourhood, are films in which the director tells a story she knows: The verisimilitude feels rich and full, and the films, like the foreign films noted above, are immensely satisfying for the lesbian viewer, even if the endings are not necessarily "happy."
In a recent interview, the lesbian mystery writer Katherine V. Forrest told me that our lesbian literature is still very young and we have many stories yet to tell, but we have barely gotten through coming out as a subgenre of LGBT literature.
The same is obviously true of film—there is so much more to us than coming out and psychosis, more than 20somethings and fluffy romances. But who will tell those stories, and how will we get to see them, when even some libraries are still discomfited by the very idea of us on film?
Our hunger for representation has been there for decades, with each new generation of lesbians searching for any films in which we appear. Yet even iconic films like Desert Hearts seem so singular. The canon of lesbian films remains very incomplete. We ache for more and better images of ourselves—portrayals in which we grow up and out and don't go nuts or end up in bed with men or wielding a weapon. We are still waiting for those films to be made. For how much longer?