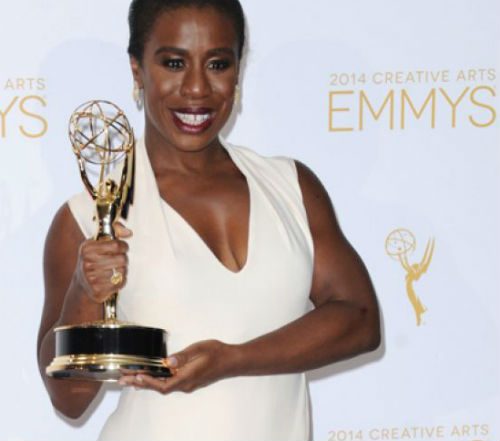 A lesbian character picks up Emmy Award for Orange Is The New Black role.
Hooray! On August 16 at the 2014 Primetime Creative Arts Emmy Awards at the Nokia Theatre L.A., Orange Is The New Black star Uzo Aduba won the Emmy for outstanding guest actress in a comedy for her role as Suzanne "Crazy Eyes" Warren.
Aduba, who first auditioned for a different role in the series (sporty Janae) accepted the award in complete awe as she was handed the Emmy by Morgan Freeman.
"I don't know how to say how incredibly impressed I am to be a part of this show day in, day out," she gushed after coming out on top of other actresses in the category including Natasha Lyonne (Nicky, OITNB) and Laverne Cox (Sophia, OITNB).
But Aduba's first thought on her victory was a practical one: "I have never thought about where an Emmy should go in my home," she acknowledged. "Now, I have to!"
Adorably, Aduba had absolutely no idea she would even be nominated for her role, let alone win it. "This was my first TV job…" She said in an interview with E! weeks ago. "I just wanted to do a good job and not get fired."
"What I love about her," says Aduba of her character Crazy Eyes, "is that she's very brave when it comes to love… She doesn't often win at it but she's willing to give all of herself… Fearless." Adding, "She's never afraid of getting wet."