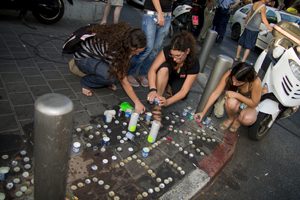 Israeli gay and lesbian community rocked by an LGBT centre's violent attack.
A horrific act of violence transpired in Tel Aviv, Israel, Saturday that has rocked the city's LGBT community.
According to news reports, a masked man armed with an M-16 rifle entered the city's Gay Youth Center Saturday night and opened fire on those inside killing two and injuring 15. Head of the Gay Youth Center Yaniv Weizmann speculated that the shooting seemed like a premeditated attack on the LGBT community.
The two lives claimed in the shooting were those of Nir Katz, 26, and Liz Trobishi, 16.
Reportedly hundreds of people attended their separate memorial services. Since their deaths, memorials have been held all across the U.S. in both Washington, D.C. and San Francisco. As of yet, the shooter remains unidentified.