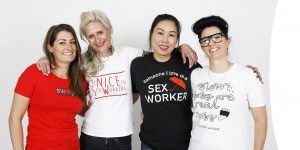 For the first time, NSW sex workers have an autonomous health organisation funded by NSW Health
Sex Workers Outreach Project (SWOP) began operation in July, and is the first organisation appointed for sex workers health. SWOP provides sexual health information and support to sex workers in NSW, specifically in relation to HIV and other sexually transmitted infections.
SWOP is managed by ACON, the peak NSW HIV/STI health promotion/prevention NGO.
SWOP Chief Executive Officer Kylie Tattersall said, "This is an exciting and historic moment for SWOP as an organisation, and indeed for sex workers all over the world, as it acknowledges the importance of peer education and the success of community‐led responses to HIV."

"It marks the beginning of a new era. Sex workers in NSW can take great pride in the remarkable health outcomes they have achieved and sustained over the years, and I believe SWOP can feel some pride from participating in, contributing to, and continuing to maintain this outstanding outcome."