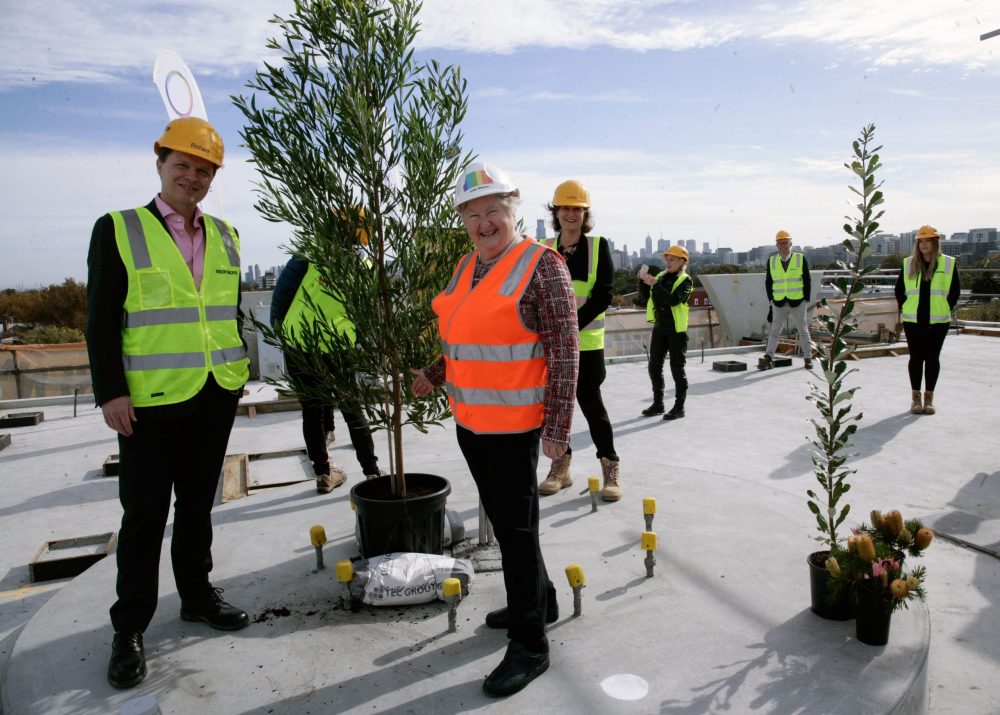 Australia's first and the world's second largest purpose-built LGBTIQ Pride Centre is structurally complete.
Victorian Pride Centre Board Chair Jude Munro AO was virtually joined by Minister for Equality Martin Foley, City of Port Phillip Mayor Bernadene Voss and Commissioner for Gender and Sexuality Ro Allen, to mark the 'Topping Out' of the Victorian Pride Centre.
Jude Munro AO and Hansen Yuncken director Richard Hansen joined the construction team on site today to mark "Topping Out" which was live streamed to our community due to physical distancing requirements on site. Topping Out is a time-honoured construction tradition that signifies the moment a structure reaches its highest point and involves the placement of a tree at the tallest point of a building to appease the tree-dwelling spirits displaced in its construction and to bring good luck to its occupants.
A native Acacia Blackwood and Coastal Banksia indigenous to the Port Phillip area were hoisted onto the roof-top terrace. Coastal Banksia's form part of the Centre's garden design and will feature throughout the Centre. Construction of the Pride Centre has continued under strict physical distancing measures.
The continued construction of the Pride Centre has provided a sense of hope and is a positive light at the end of the tunnel during these uncertain times for the community.
The Pride Centre will house a number of major LGBTIQ organisations who are currently working hard to provide a range of support services to the LGBTIQ community during these difficult times. These organisations include Thorne Harbour Health, Switchboard, JOY 94.9FM, Minus18, Australian Lesbian and Gay Archives, Melbourne Queer Film Festival, Transgender Victoria, Australian GLBTIQ Multicultural Council and Star Health.
Minister for Equality, Martin Foley says: "The Victorian Pride Centre is a structure that represents the best of our community values – resilience, solidarity and community connection – during these unprecedented times when our communities need it most."
"The structural completion of the Pride Centre demonstrates our commitment to building an equal and inclusive state for, and with, LGBTIQ communities in Victoria."