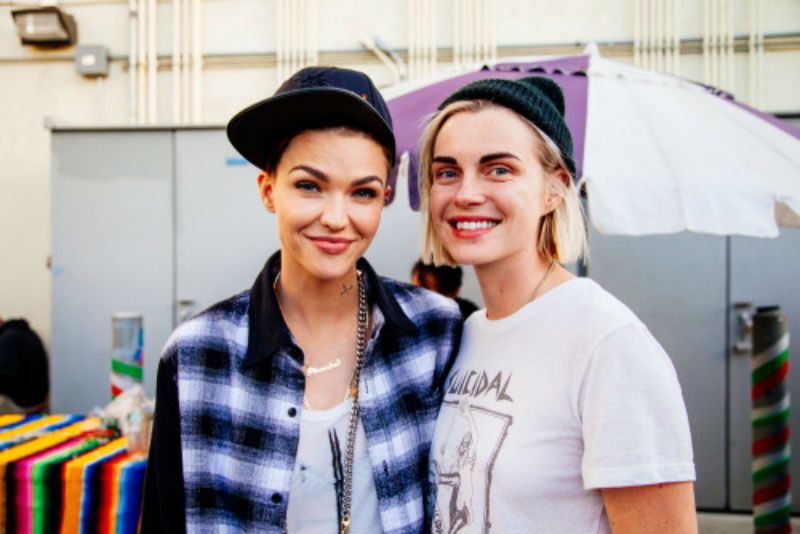 Australian actress Ruby Rose and fashion designer Phoebe Dahl have officially ended their 20-month engagement.
The pair was known to regularly document their outings on social media. Rose even announced their engagement through her instagram account in March 2014. Rumors had been circulating that the pair separated following a decrease in social media postings about each other.
Earlier this year in an interview, Dahl spoke about the duo's meeting saying, "I met Ruby at a barbecue I threw a year and a half ago and we got engaged within about three months. It was all very instant…Honestly, we're not really apart that often."
She confirmed the split in a statement to Us Weekly saying, "After two wonderful years together, Ruby and I have decided to part ways. While we still love each other and support each other in every way, it is our mutual decision to part ways. Our break is not the result of any media speculation, and we want nothing but the best for each other. Thank you for respecting our privacy in this very difficult time."
A source close to the couple told E! News the breakup was "completely amicable" and the former partners "wish each other the best."
Rose took to Facebook and wrote, "Phoebe remains very dear to my heart. I will forever treasure our time together. I'm a better person because of the time we shared. They say, 'it's better to have loved and lost than never to have loved at all.' I'm lucky to have had the chance to love her."
The reason behind the split is speculated to be the long distance nature of the pair's relationship. Rose's acting schedule and Dahl's charitable fashion line kept the two apart frequently.
Dahl left a special message for Rose on Twitter reading, "You have brought me to my best and I will always love you. I can't wait to see what the future brings for us."
This is not the first time Rose has ended an engagement. In 2010, model Catherine McNeil and Rose went their separate ways.