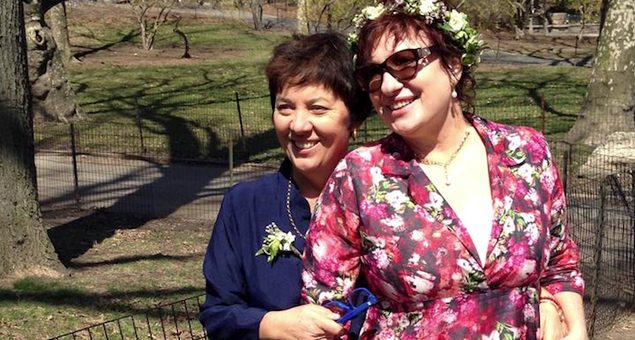 Marriage equality advocates have congratulated Australian broadcaster and comedian, Julie McCrossin, on her marriage to Melissa Gibson in New York City and have urged the Australian Government to recognise overseas same-sex marriages. 
Australian Marriage Equality national director, Rodney Croome, said,
"Julie has been a strong supporter of marriage equality for many years and on behalf of supporters of the reform I wish her and Melissa every joy and happiness in their married life together."
"Like all other Australian couples who marry overseas, Julie and Melissa's joy will be tempered by the fact that their solemn vows of lifelong commitment will count for nothing when they walk back through Australian customs."
"Many Australians will be appalled that someone like Julie McCrossin, who has contributed so much to our nation's cultural life, is treated petty and disrespectful by the law."
"I urge the Government to respect the solemn vows of couples like Julie and Melissa by legally recognising overseas same-sex marriages."
Both Ms McCrossin and Ms Gibson posted photos of the New York wedding on their respective Facebook pages earlier today.
The Marriage Act explicitly states that overseas same-sex marriages will not be recognised in Australia despite the growing numbers of Australian couples marrying in New Zealand, the US and the UK because same-sex marriages are not allowed here.
Last week Greens' Senator, Sarah Hanson-Young, announced she would introduce legislation to allow the recognition of overseas same-sex marriages.
The Government said it will allow same-sex marriages to occur in UK consulates in Australia but these marriages will not be recognised under Australian law.