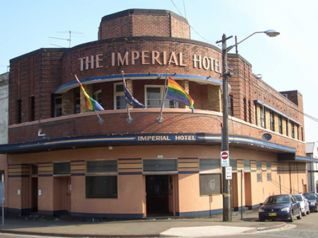 Finally, the struggle to comply with council requests and neighbour's complaints is over.
The iconic LGBT venue, The Imperial Hotel in Erskineville, will reopen its doors to present the punters with a facelift that is certain to restore the hotel to its former days of glory.
Industry folk will get a gander a day early on September 3 but the rest of us can drop into the Impy from midday on September 4 where venue owner Shadd Danesi will be proud as punch to show you through his establishment.
Fans of the Impy's nightly cabaret act will be pleased to hear that the first cab off the rank will be the return of the Priscilla Show on Saturday at 1030pm.  While the newly refurbed cellar bar will kick off from 11 pm.
According to Shadd, punters will be certain to see some familiar faces gracing the stage (and bars no doubt) over the coming weeks.
Danesi is glad that his long battle with the council is over: "I just hope Council and I can work together and cooperate in future to move forward – our wish is to be good neighbours."
He believes the old Impy regulars be pleased with the refit of their favourite haunt and is quick to give credit to architect Antonio Caminiti for the new design which includes a new public bar area, gaming room and outdoor smoking area to name a few and Craig Mills for his great work on the interiors. He particularly loves the new  "much larger and prettier cabaret room" which has a better sound system and intelligent lights…
So head over to the Impy on Saturday and raise a glass or two at the old girls' grand reopening!