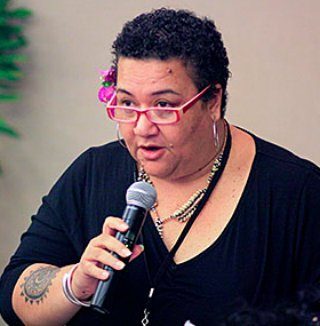 Human Rights activist Noelene Nabulivou will be speaking as part of the Human Rights Forum "Power Through Action" at the upcoming Asia Pacific Outgames to be held in Darwin
Noelene tells us a little about her life and her lifelong commitment to equality.
 "Even as a young girl I was very aware that the society I grew up in, treated people very differently based on many variables – age, ethnicity, colour, work, social status, indigenous standing, faith and of course, sexual orientation and gender identity -even if I did not have the words for it then."

"As a watcher of how people treated each other and how social spaces worked I can remember peeking round doors and watching family gatherings from an early age, noting certain traits of people, how they held, or did not appear to hold power. I became increasingly aware that people were treated differently because they did not fit the usual gender norms in my community. And that included myself."
Moving between Fiji and Australia during the 1980s, shaped some of Noelene's early activism. Together with other young people alienated from mainstream Australian life, she worked with small anarchist collectives, street-present young people, migrant and indigenous groups, and other community and public artwork in and around the outskirts of Perth and surrounds.
Today Noelene lives with her partner of 11 years in Suva, Fiji, with their dogs, cats, and wider family members.
The United Nations is a place Noelene spends much of her time these days, working on issues of climate change, sustainable development, gender equality and women's human rights, sexual rights, Women Human Rights Defender issues, healthy oceans, "ending mining, including seabed mining in our region, trying to help stop this terrible proposed Trans-Pacific Partnership Agreement" says Noelene.
Noelene's passion is radical change action rather than just the words especially global change on homophobia and the criminalisation of sexuality. She also loves her work as part of Diverse Voices and Action for Equality (DIVA), a growing network of lesbians, bisexual women and Trans*men in Fiji, and her work with Development Alternatives with Women for a New Era (DAWN), and especially building movements for change – a recent example is the newly formed Pacific Feminist Coalition on Sexual and Reproductive Health and Rights.
"I am very excited to be part of the Human Rights Forum, and look forward to the concrete actions that are agreed across the Forum leaving a lasting trail once everyone leaves Darwin."
Noelene sees the Human Rights Forum as a place to map sexual rights work in the region's thinking about broader geopolitics. A place where difficult and invisible issues can be discussed and an opportunity for building networks. "To be in a room with other human rights advocates," says Noelene, "aids understanding on the similarities and differences and how that affects the advocacy work in the region. Importantly it is a time for reflection on the diversity of our communities and the strength of this in our human rights work."
What does she thinks, the Outgames brings to Darwin and the Asia Pacific region?
My expectation is that it brings some real political movement, and a space for those already doing the hard work of defending human rights to politically strategise, build friendships and valuable contacts, and more. I hope it is a serious catalytic moment in sexual rights work in Asia and the Pacific regions. As well as the Outgames, many organisations such as DAWN and DIVA for Equality will be convening a small closed workshop on Lesbian Bisexual Transgender South organising.

I also hope that it is a time for much fun!