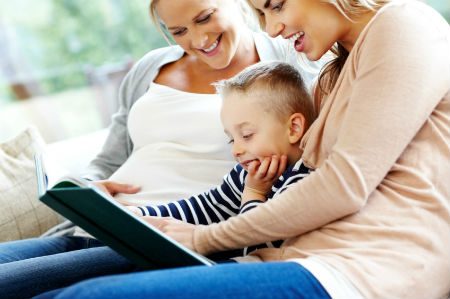 Children raised by same-sex parents are happier and healthier than their peers from heterosexual families, Australian research suggests.
In terms of health, happiness and family cohesion, children of same-sex parents are above average, according to University of Melbourne researchers. Results suggest same-sex families enjoy more harmonious households which influence greater health and wellbeing.
Lead researcher, Dr Simon Crouch, from the Jack Brockhoff Child Health and Wellbeing Program, Centre for Health Equity at the University of Melbourne says these findings are relevant to Australia's political context.
"Australian politicians and others still object to marriage equality and same-sex adoption based on arguments that children need to be raised by a married biological mother and biological father to do well."

"This study shows that children can thrive in a range of family contexts and the ways that these families are constructed can bring their own particular benefits to child health and wellbeing," he said.
Same-sex parents are more likely to share work responsibilities and child care more equitably than heterosexual parents, due to a basis of skills instead of gender roles.
The Australian Study of Child Health in Same-Sex Families, involved input from 315 same-sex parents with a total of 500 children, concluding that same-sex parent families get along well which in turn has a positive impact on health and happiness as a whole within their households.