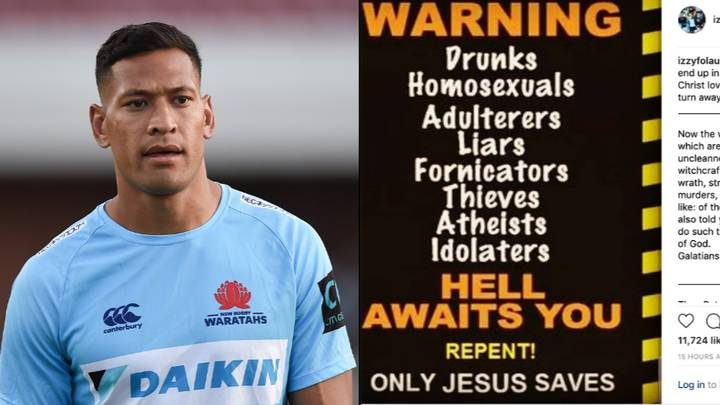 The confidential settlement between Rugby Australia and Israel Folau will not stop Sydney anti-discrimination campaigner Garry Burns from continuing his litigation against Israel Folau for $100,000 and a public apology over his comments linking parties to Same-Sex Marriage ( homosexuals ) to the cause of natural disasters.
And in his lumping of homosexuals using CAPITAL LETTERS in the same category as thieves ( criminals ) and other sinister and deviant perverts.
" On Tuesday 2 December 2019 Mr Burns was contacted by a man who claimed not to be homosexual who said, " Mr Burns if there is anything I can do to help you in relation to Israel Folau please let me know. I have lost everything. All I have left is the clothes on my back and my car. My home and everything in it was burnt to the ground. "

" The pernicious ranting of Mr Folau on some alleged Christian belief seems to have touched a core in people who have suffered loss. Perhaps Mr Folau should donate whatever confidential settlement monies he received in today's talks with RA to those people who have lost everything to bushfires. After all it would be the Christian thing to do, " said Mr Burns.
On 2 December 2019 Mr Burns sent an email to Mr George Haros who is the solicitor on the record for Israel Folau requesting a meeting between him and his client. Mr Burns is yet to hear back in relation to the granting of that meeting.
" Mr Folau talks about his Christian approach but what comes out of his mouth is far from what Christianity teaches us about our fellow humanity because the words he uses I allege cause hurt and suffering to good people. '

" I was born a homosexual. I didn't pick up my sexuality at Knock & Kirby's as some kind of fashion accessory. Mr Folau I have a right to be treated by you with respect , " said Mr Burns.
Mr Burns lodged his complaint with the President of the NSW ADB on Monday 1 December 2019.
Mr Burns in his media release on 1 December 2019 below outlines his reasons for commencing the proceeding.
In his submission to the President of the NSW Anti-Discrimination Board, Dr Annabelle Bennett, Burns alleged Folau's comments about gay people breached Section 49ZT of the ADA.
A copy of the complaint said: "On or about 11 April 2019 … Mr Folau published a warning that hell awaits homosexuals.
"By publishing those statements … Mr Folau has portrayed homosexual men and women as people who should be shunned and/or avoided on the grounds of their homosexuality and by doing so, has breached the provisions of the Anti-Discrimination Act 1977," wrote Burns.
Burns also took umbrage with Folau's comments linking the current bushfire and drought crises in Eastern Australia with homosexuality.
"On or about 17 November 2019 … Mr Folau said: 'God says for a man and a woman to be together, one man and one woman in the covenant of marriage … they've changed that law and now they've legalised same-sex marriage.'

"'Look how rapid these bushfires, these droughts, all these things have come, in a short period of time. You think it's a coincidence or not? God is speaking to you guys. Australia, you need to repent.'"
Burns said Folau's linking of homosexuality to natural disasters such as bushfires, drought, loss of property and human life was "objectively capable of incitement of contempt and/or hatred of homosexual persons on the ground of their homosexuality … under the Anti Discrimination Act 1977".
He alleged Folau's comments portrayed "homosexual persons as a group within the Australian populace to be avoided and/or shunned on the grounds of homosexuality … as being sick, perverted or dirty.".
In lodging his complaint, Burns also expressed concern for young LGBTQI Australians, who he said were vulnerable to statements by prominent public figures.
"Folau's statements in relation to transgender and homosexual Australians [are] capable of having a dire effect on … teens who may suffer from low self esteem issues.

"The continual targeting of them by Mr Folau in the media … as inferior … could lead those teens to suicide," he said.

"I alleged Mr Folau's linking of my homosexuality to the cause of natural disasters like bushfires, drought and death of animals like [koalas] … kangaroos and other wildlife, and human death, is pernicious and unlawful under ADA 1977," Burns concluded.
The activist said that if successful, he would donate the $100,000 to LGBTQI youth support service, Minus18.