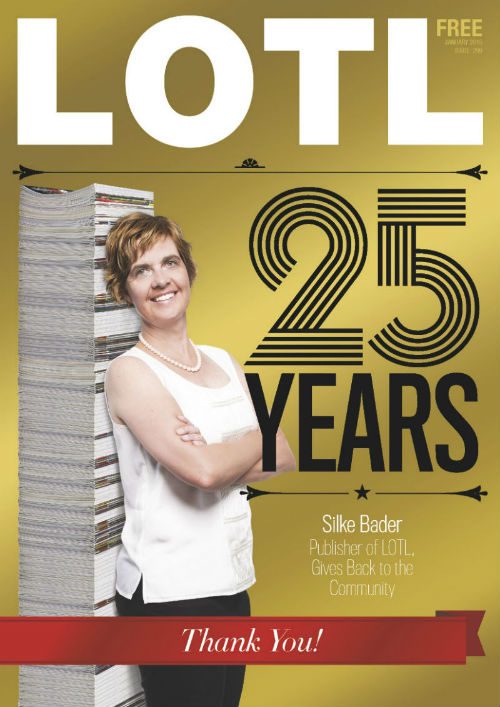 LOTL Magazine will complete its 25-year journey and change hands from Avalon Media Pty Ltd to non-profit L Media.
LOTL ("Lesbians On The Loose") magazine, one of Australia's longest-running LGBT publications, printing 290 editions and 5 million copies since it was founded in 1989, turned 25 this year.
To celebrate this milestone, owner and publisher Silke K. Bader will hand the magazine back to Australia's lesbian community. The publishing of LOTL will pass from her company, Avalon Media, to L Media, a non-profit.
"There are only so many readers, so many advertisers, and it means you can only do so much with a community publication," said Bader, who believes that a for-profit business structure is a disadvantage in today's community publishing landscape.
"We have always pushed for growth. We wanted to distribute in Adelaide and in Perth, and in regional areas, and we wanted a higher print run to reach those readers, but the financials just wouldn't allow it. Having a commercial set-up no longer allows us to do what we need to do," said Bader. "The not-for-profit structure makes sense for a community LGBT publication. Sydney Gay & Lesbian Mardi Gras and The Sydney Star Observer are two other examples of organisations that serve the community and are not for profit."
Other factors have also led to Bader's decision, such as the fallout from the Global Financial Crisis, changes in publishing itself, and readers moving online for free content. But in making her decision, Bader ultimately looked to the future of the publication, wishing to avoid the fate of other lesbian-owned businesses that changed hands and soon went out of business.
"The shareholders of Avalon Media and myself have given up our ownership, truly believing that the growth and immortality of LOTL is best delivered with a not-for-profit structure—L Media," said Bader, who set up L Media around six months ago. "If LOTL goes through some tough times, with a non-profit structure, people would fundraise for their magazine. It makes more sense to reach back out to the community who you produce for."
Bader was encouraged by the response from the general public when The Sydney Star Observer ran a crowdfunding campaign and exceeded its goal of $100,000. "There is so much the lesbian community doesn't have but could have with the structure of a non-profit," said Bader. "With L Media, we will be able to make things happen. It's a matter of ideas and resources."
Bader is planning an official event in February where she will hand the magazine back to the community, and L Media will publish LOTL magazine under a board structure. "I am now looking for suitable board members who will act in an advisory capacity and through their own networks contribute to LOTL," said Bader, who is looking for six women with backgrounds in marketing, finance, women's welfare and community organising.
The focus of L Media will still be on magazine publishing but will widen to include community outreach. "One of my main agendas for 2015 is to look at what funding is available and how we can expand LOTL outside the main distribution points of Sydney, Melbourne and Brisbane," said Bader. "I would love to have a LOTL van travelling in remote areas of Australia, just like the Priscilla van. We'd travel from women's health centre to women's health centre, and distribute this message that there is a magazine you can read in privacy, in print or online, and connect to other lesbians—you are not alone. I always wanted LOTL to go rural, which is where a publication like this is most important."
While Bader will consider crowdfunding for projects such as distribution in remote areas, the production of the magazine will be business as usual, with advertising and subscriptions funding each issue. "LOTL is still going strong, both in print and digital," said Bader. "But at the end of the day, I know that this new structure has the most likelihood for LOTL to continue indefinitely, and for me, that is the greatest reward."
Be the first to read the news and purchase the January 2015 issue of LOTL here.