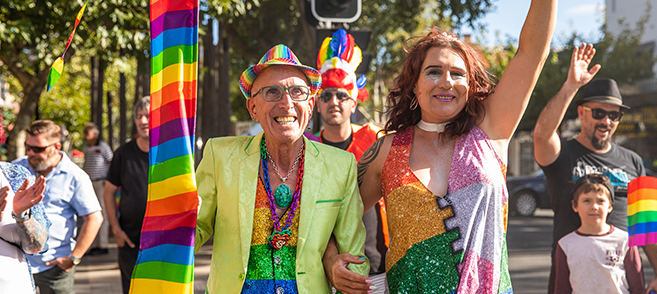 Wagga Wagga 78er Ray Goodlass wants McCormack to join him at Mardi Gras.
Ray Goodlass a resident of Wagga Wagga and one of the famous Mardi Gras 78ers has extended an invitation to new Deputy Prime Minister Michael McCormack to join him at the 40th anniversary Mardi Gras parade in Sydney.
In 1993 as editor of the Daily Advertiser in Wagga Wagga, McCormack wrote incredibly inflammatory and homophobic remarks in regards to the LGBTQIA+ community.
McCormack has since released an apology for those remarks.
"As a gay man living in McCormack's home town, I experienced homophobia and McCormack's apology did not undo the damage caused by his 1993 editorial." Mr Goodlass said. "Last year I questioned the ethics of McCormack being given the job as Minister responsible for managing the marriage equality plebiscite. I have issued a genuine challenge to McCormack to prove his change of heart by marching in this year's Gay and Lesbian Mardi Gras. I am ready to accompany McCormack in the parade up Oxford Street."
It's not just the deputy PM's views on the LGBTQIA+ community that has Mr Goodlass concerned. "In his first House of Representative's speech, McCormack stated that "Just because there is less rain 'It does not mean we all need to listen to a government grant-seeking academic sprouting doom and gloom about climate changing irreversibly' he said.
"The irony of Mr McCormack's stance as a climate change denier is plain to see. Climate change will lead to more extreme and more frequent droughts, heatwaves and bushfires, which impact on regional and rural Australia. His constituents are therefore in for a shock if they expect him to look after their interests. Greens NSW Senator Lee Rhiannon has known Ray Goodlass for many years, as an active member of the Greens Riverina group and the organiser of many Greens election campaigns in Michael McCormack's seat.
"I have known Ray for a long time and can assure Mr McCormack that this is a genuine offer from Ray that would enable the new Deputy PM to show that he truly has left his bigoted views of the LGBTQIA+ community in the past.
"The Greens will once again have a float in this year's parade where we'll be celebrating the marriage equality win of the LGBTQIA+ community and protesting for further rights", Senator Rhiannon said.