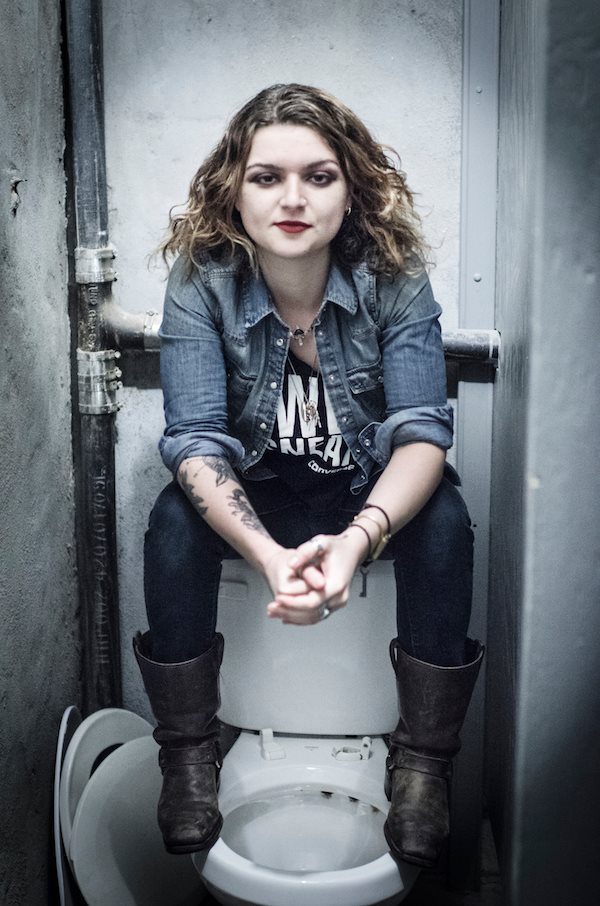 Warning: this video may make you very hot under the collar.
The word "gritty" gets thrown around a lot when examining punk rock or the blues. In the case of New York-by-way-of-Australia blues-punk-rocker Freya Wilcox, her story embodies that of a passionate, blue-collar artist.
"It's a graphic ode to the dynamic thrill and powerlessness of sex & love addiction (or as most people will find more digestible, 'falling in love), the filming of which included hours of real pain and getting stabbed in the ass with a switchblade (accidentally) while hanging half-naked from a basement ceiling. Some will call it porn, I'll call it performance art – it's a lot less painful than the real deal regardless," Wilcox told us. 
"'Skin' is kinda ominous for me. It's a toxic love song, maybe a lust song, about falling headfirst into danger and knowing you can't stop yourself short. The video is obviously quite a literal interpretation of that violent lust, but the underlying notion is that there is exhilaration in painful, obsessive love, and sometimes when we're closest to self-destruction we feel most alive. It's the album opener, marking the step off the cliff that prefaces an emotional trash fire, but it's a nice reminder that sometimes to find your strength you need to be torn apart by your weaknesses."
Her debut LP with her band The Howl (Craig Shay on bass & backing vox, CJ Dunaieff on drums), Tooth & Nail, speaks back and brings to the present everything that makes Wilcox who she is today.
Starting off as a ballsy 10-year-old in Queensland, Wilcox tore through a few bands until turning 16 and moved to Brisbane to work as a labourer in outback mining camps to earn the cash to put herself through school. It was there that she met a Native American guitarist who taught her to love the blues. After that, Wilcox quickly fell in love with a New Yorker while in Sydney and before long had sold her books, records and many of her guitars and was on a plane to the Big Apple with a bag of clothes, 4 guitars and a tube amp.
After cutting her teeth playing solo late night at dive bars on the Upper West Side, Wilcox found her backing band and quickly stormed the local scenes and toured. With the band's debut full-length on the way, Wilcox pulls no punches upon reflection:
"Tooth & Nail has been in the works for a turbulent year and has documented my fall into the despair of active sex and love addiction and subsequent crawl back to baseline. The record documents a near-lethal trip through a divorce, abuse, heartbreak, love, death, growth and above all, survival. During its recording, there have been hospitalizations, overdoses, lies, breakups, old wounds and new beginnings, and the whole story is told in 9 searing tracks using every ounce of vintage muscle that Sabella Studios could offer."