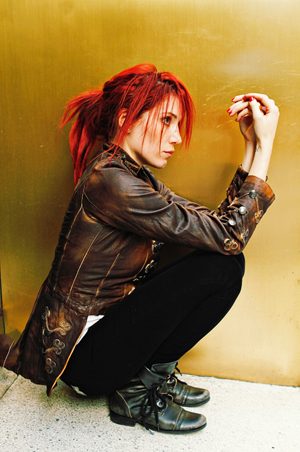 Former Northern Stater, Hesta Prynn, tackles the first full-length and does it with style.
"I have been working on the album for a while now. It's a work in progress," Prynn explains, as she dodges and weaves through busy New York streets. "I'm getting a lot of opportunities to work with different people and continuing to write and see what happens."Fiery red hair and that indomitable Brooklyn badass attitude make Northern State alum, Hesta Prynn hard to miss. For the past two years, Prynn has been venturing off into the world of solo work and her recent EP Can We Go Wrong has set her apart as innovative and genre-blending while landing comparisons to M.I.A. that have got the electro-dance diva taking notes for her own full-length record.
Deciding not to include tracks from the EP for the new effort has opened up some song space, as well as some freedom as Prynn weighs the idea of relocating to L.A. "I wrote a lot of the album in L.A. There's a lot of dance music there, and I think that cities have different beats. I think the heartbeat of New York is hip hop and I've been here my whole life. I'm interested in seeing another city and getting a rhythm of the feeling there. I'd be interested to see how that changes the pace of what I do".
Prynn's departure from the political, hip-hop trio Northern State to being her own boss has her breathing a heavy sigh of relief, almost audibly on the EP, Can We Go Wrong, as it pulses, swings and jangles through the six-song blitz.
"I'm really trying to push it harder in the dance direction," Prynn declares. "I really want to move in the direction of the music coming out in gay clubs in L.A. – dubstep, big hooks – I'm trying to fit more of that into what I'm doing".
Flying solo carries a different kind of weight than working arm in arm with two best friends as she had in the band, Northern State. "I'm learning how to be my own boss and to work with people. The ins and outs of touring, there's a lot to prepare for—deal with your merch, deal with your people and bands, and yeah, that's a lot of pressure. But I love performing my music and I'm really proud of it" she says. "But, it's nice when you do it by yourself because you win or lose by yourself. Your victories are solo victories, which is exciting and your losses are solo losses which can feel kind of lonely and scary when you don't have your best friends to lean on. It's different in those ways".
Solo, or not, it's obvious that Hesta Prynn still has a ton of friends. Her Twitter page is filled with replies, not only to fellow musicians and the upper echelon of artist types but to her fans. "I love being connected to my fans. We're the same type of people. Your supporters and fans are an amazing resource because generally, your fans share the same interests. I feel really lucky in my life that I have that, because of the Internet your fans can reach out to you and you can reach back and they'll be there. I have a lot of gratitude."
For many artists, touring and merchandise are the primary, if not only, way to stay afloat financially, and Prynn's merch page is overflowing with rad finds. From merch table staples like T-shirts, albums and vinyl, to membership to her Black Friday Book Club, Twitter guest-hosting from Prynn herself, custom mix-tapes and finally, the crux of cool for many fans, Hesta Prynn DJs their party.
"I mail all the merch out myself. I want to and I like to," Prynn says. "I touch all the packages. I want them to know, the people in Texas, in Minnesota, in Switzerland (that buy merch) that I appreciate them and that they would spend their money on me and keep me going as an artist. I put a vibe into every package I send out. When fans buy things from an artist you're a part of their lives. So it's like you own a piece of a band like you would own stock in a company."
For Prynn, 2011 promises to be a year of awesome change and, as her LP continues to rocket towards completion, one thing is sure, she's not slowing down. "I want to be that success story for everyone I work with and everyone that believes in me. Fans too, I don't want to be someone you heard of once and put out a tiny record and a cool video and called it a day. I want to be somebody you can follow and grow with."
If Hesta Prynn's career to date is any indication, that won't be a problem.