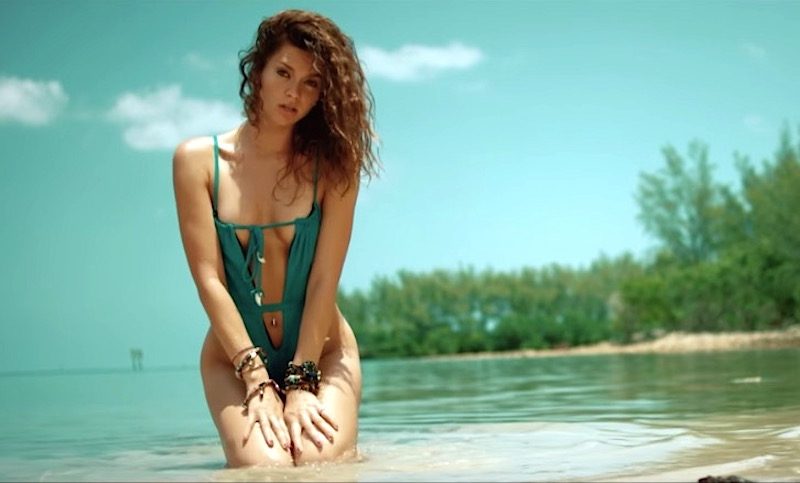 Read our exclusive interview with the Latvian model-turned-singer and watch her sexy, sapphic music video.
We've been fans of Keeana Kee for years.
As well as being a stunning model, multi-talented Keeana is an amazing singer.
Check out her single Coconut Rum And Coke and its seductively sapphic video, then find out a little more about the woman herself in our exclusive interview.
I love the song – it's so summery!
This song is about a romantic relationship. It's about people desiring and fantasising about each other. I hope this song will excite you and make you wanna make love…
I want you to feel that happy, beachy vibes that this song brings and put you in a good mood even when you were having a bad day. Go as far as your imagination can take you.
The music video is gorgeous too, and so rare in showing an authentic same-sex couple. Was that important to you?
It's who I am and it's important for me to let people know that. I want to encourage people to be themselves.
I'll be honest, at first, I was unsure if I should bring up the gay vibe in the video and film it with a female partner. I knew a lot of people will go against that. Also, I was prepared it may affect my career. Being a new artist you have to be very careful about every move you make, but I still went for it and I am proud.
You should be. It's brilliant. Has your gender or your sexuality ever affected your career? 
As a model, I have experienced a lot of discrimination and as a female, it's always hard to do any kind of business where men are involved. They never take you seriously and always try to take advantage of you.
What was it like growing up gay in Latvia?
When I lived in Latvia, I was dating a guy and didn't have the same-love experience at that time. I did have gay friends though and I know how depressing and difficult it was for them to be open and try to survive in a country full of closed-minded people. I still can experience that when I go there…
So that shoot was at the same time you came out? Wow! What was that experience like?
I was crazy in love with my partner at that time and was sure that it is the right time for me to come out. I was ready to be denied by my family, but I was sure that she was all I wanted and I had the strength to come out.
What do you look for in a woman?
I would always fall for a masculine woman who can be in control. Confidence is important, it excites me. I love to be in a relationship. I always pay attention to how reliable and trustworthy a person is.
What are your ambitions for the future? 
Definitely to have many hit songs written by me, to collaborate with amazing producers and artists, to inspire people.