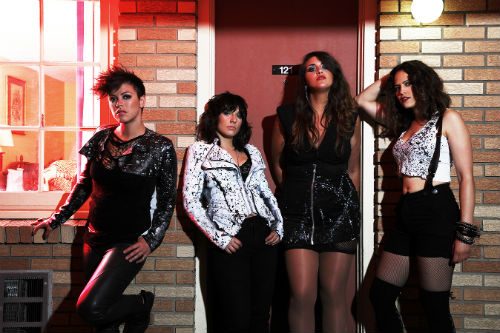 Catching up with Kiyomi McCloskey about touring with Sick of Sarah and some personal stuff.
The Ladykillers Tour is back by popular demand! We've seen Hunter Valentine's amazing three-year journey from indie band to breakout band, accompanied by television appearances such as on Make Or Break: The Linda Perry Project. Now they are once again teaming up with Sick of Sarah to overwhelm you with their unrelenting musical talent for this 2014 tour.
Ultrasounds proclaimed that Hunter Valentine's 2012 album Collide and Conquer was "an anthology of gritty, edgy, power rock with dirty guitar and husky vocals, and is pure music sex," and now they are back to feed our starving rock-craving appetites with another much-awaited record to be launched in 2015. HV will be debuting some of their new songs on the Ladykillers tour to quench your thirst until then.
I had a chat with lead singer Kiyomi McCloskey about Hunter Valentine's music, tour experience, and even a bit about her personal life.
I've been listening to your new single from the Linda Perry Project. 'Burn With It' sounds awesome. How do you feel about it as a finished product?
Thank you! I think it's great, I'm really happy, it feels great to have new music out there. We were hoping to have a full-length album out by now, but having a single out really quick and seeing the reaction feels really good – it feels like a fresh new beginning. We're still trying to write as many songs as possible and we're gonna do this tour with Sick of Sarah. After October we'll get back to making new material in the studio.
Will you be playing any new material from the forthcoming new album on the Ladykillers tour?
Absolutely.  Yeah, that's kinda the idea, get out there and play a bunch of new stuff and see how our crowd reacts to it. We're gonna have to shape and mould the songs a bit more before recording them.
Do you like doing large shows like Ladykillers tour, or do you prefer intimate gigs?
You know, I think I have something to take away from every show and I love an intimate show but the opportunity to open for Cyndi Lauper in the last year—and those are big shows—and you learn to sort of "control" your audience in a different way, so I like both.
How do you unwind after a gig?
All our supporters know that we will go to the merch table and hang out with the fans for at least two hours, talk to them and just get to know them – they stuck around for years, it's the least we can do
Do you hang out with Sick of Sarah off stage?
Yeah, we're all really good friends, that's why this tour is going to be amazing. You feel kinda lucky that you get to tour and work with your friends for a month straight.
Which band would you most love to tour with?
We're all into Muse. I think obviously you'd want to pick a brand that's pretty big and gain a new audience so we'd pick an arena band like the Foo Fighters
Do you have any idea where you'll be touring the new album?
All over the globe! We'll be back in the UK, we'll be back in the U.S., Canada, trying to hit Australia this time, last time we hit Japan. I think it will be non-stop touring once the record is out.
In what direction do you feel like you want to take your music from here?
I try not to overthink what I want it to be, just write as many songs as possible and the songs that are the strongest will make it on the record. They're still all rock songs but I think there's gonna be a lot of sensitivity on this one – we've been through a lot in the last few years. So we're gonna show a bit of our quiet side on this record.
I'm guessing as a band you have learnt a lot about each other working so closely over time – who has the weirdest habits?
Laura the drummer is kinda OCD – she has a bunch of weird habits! Everything needs to be neat and tidy and in a line at all times so she's the most neurotic one I guess. It's not just organized, I don't know how to explain it.
Taking things personal now, I read somewhere that you prefer to tour when you're single. Is that still the case or have you been able to make a relationship work?
It's really hard to go on the road, not because of the temptations out there – but you're a musician, not superhuman. It's hard to be away from the people you love constantly. That's the main reason I probably said that. It's easier to be single because you're not always missing someone, and it takes a lot of work to make a relationship successful when you're on tour. You have to constantly check-in to make sure the person feels good about where you are, and what you're doing. You want them to feel secure because you're running all over the world or the U.S., and you want your partner to feel happy and confident in the relationship and that means a lot of checking in – a lot of phone calls, Skype, that kinda thing.
Last time I heard you were with Lauren?
Actually, we parted ways not too long ago. It's okay, we're still friends. I saw her out last night actually. We have a very close bond that will probably last a lifetime.
Is there anything else you'd like to add on to say to your fans?
We are going on tour, starting September 25th. We have the Ladykillers tour with Sick of Sarah and guest bands throughout the tour. We're excited to be out there and see everyone again. And buy our new single, "Burn With It" on iTunes! It's an internationally distributed song, so you can get it everywhere. Thank you for supporting us over the years, we really appreciate it.
INFO: The 2014 Ladykillers Tour includes stops in more than fifteen North American cities, including New York, Chicago, Miami and Dallas. Tickets go on sale September 2nd and can be purchased at www.huntervalentine.com