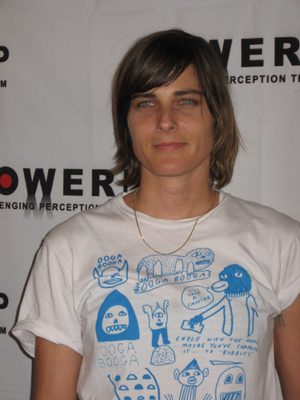 Actress Daniela Sea unknowingly persuaded me to volunteer nearly a hundred hours of my time—that's pro bono—to help make a lesbian film.
It all started when we were discussing a movie in which she appeared, The Itty Bitty Titty Committee, one of the best-publicized LGBT films since the screen was made silver.
Itty Bitty was not my favourite movie, but it was the first feature produced by POWER UP Films, the only nonprofit studio dedicated to promoting positive LGBT images. A great-looking film that has huge support in the industry and among audiences, it premiered on the LOGO channel this month.
"It was like a communal effort," gushes Sea, having nothing but good things to say about the gig and the group. "I don't know another organization or group that's so supportive of women directors, queer directors, specifically. Just the other day I was looking in the best of the AFI [American Film Institute] as far as LA Weekly is concerned…. It just seemed like again, we're completely underrepresented. I feel like at least POWER UP is trying to change that."
Sea is pitching in as well, writing and work-shopping her own script.
"I've been working on a screenplay for the last year and a half that I've co-written.
I put it through a lab over the summer and I'm getting ready to direct it, hopefully, this year, knock on wood."
The film is autobiographical, "and then it takes a complete right turn and it's not at all like my life," she says. "It's a father-daughter story, a real family thing, [but] it's definitely queer as well."
Sea bailed on high school, though she's always written poetry and stories.
"I didn't ever have much guidance in my writing," she laments. "As far as storytelling this way, it's something that I've never done. I've never tried to [write] a whole story with different characters and all that. It's been really fun, like a total journey for me. I never expected to feel empowered enough to want to do something like that and now that I have, whether it gets made, I mean whatever happens with it, it's still been a great learning experience."
Meanwhile, POWER UP Films started shooting its second feature, Girltrash: All Night Long, based on the Web series by Angela Robinson (D.E.B.S.). After an earlier blog in which I spoke with some of the lead actors—Mandy Musgrave, Lisa Rieffel, Rose Rollins, among them—I got invited to the set to write about the production.
Maybe because of the lofty goals the organization has set for itself and/or Sea's words echoing in my ears, I am momentarily possessed and I said hey, this is another one of those kum-bai-ya community efforts, nearly everyone on the crew is volunteering, why don't I volunteer on the film and do a behind-the-scenes piece on what it was like to make this mostly all-girl musical extravaganza?
Find out how this flicker of genius plays out in next week's blog.