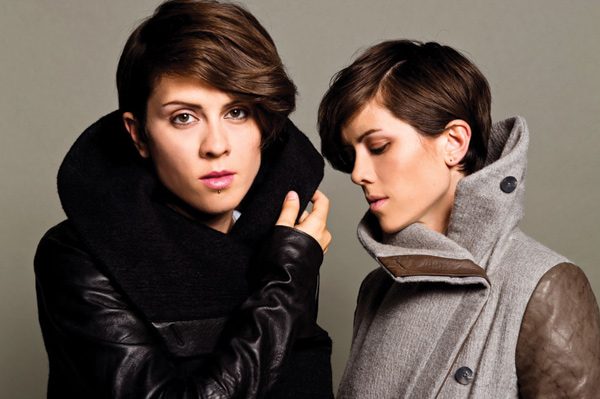 Is this emotionally raw outing the duo's best yet?
Queer cutie pies Tegan and Sara are at it again with their latest album Heartthrob—a perfect name for record from the duo, who are at the top of almost every lezzie's heartthrob list. But this album isn't about their ability to make the ladies swoon, rather it chronicles the pain, confusion and anger of rejection.
It also marks a sonic departure from their previous albums. In the past, T&S's sound was hauntingly atmospheric featuring heavy synth and duets that are so in tune and intertwined that the parity lends them a distant surreal quality, keeping the listener at arm's length. Not so with Heartthrob, which eschews any semblance of aloofness and instead draws the listener in—deep—to bare witness to the visceral wreckage of a broken heart, in all its gory detail.
The incredibly intimate "I Was a Fool For Love" is a gorgeous, languid lament that mines the pain and confusion that comes with a love gone wrong to great effect. "Now I'm All Messed Up" lays bare all the internalized uncertainty, hurt and demoralizing ups and downs of losing love.
There is an honesty and vulnerability on Heartthrob that transmits a rawness of emotion that most love songs only parody. But that's not to say that this album is hard on the ears; quite the opposite, in fact. Despite the melancholy subject matter, the album features plenty of the catchy beats, irresistible harmonies and dance floor friendly hooks that T&S are known for.
Album opener "Closer" is an up-tempo auditory salve and it's super sexy to boot. It's all about sex, but the kind that goes beyond the physical, that simply uses the physical to connect and achieve a greater emotional closeness—a concept we lesbians can certainly identify with.
With their seventh album, Tegan and Sara seem to have achieved the near impossible: making innovation look and sound effortless, growing and evolving their sound while still maintaining their musical identity. Is it too early to declare Heartthrob the best album of 2013? Maybe? Maybe not.